Dr. Leonard A. Stept

June 6, 2017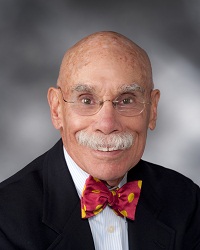 Visitation Information
June 11 2017 - 12:00 pm
Ralph Schugar Chapel, Inc. 5509 Centre Avenue, Pittsburgh, PA 15232

Funeral Information
June 11 2017 - 1:00 pm
Ralph Schugar Chapel, Inc, 5509 Centre Avenue, Pittsburgh, PA 15232


STEPT, M.D., LEONARD A.: Of Shadyside passed away peacefully on Tuesday, June 6, 2016 at age 80. Dr. Stept is survived by his wife Kathy, and numerous nieces and nephews and great nieces and nephews.  He was predeceased by his brother, Dr. William Stept and his uncle and mentor, Dr. Raymond Stept.  Leonard was born to the late Reva and Abe Stept in Johnstown PA.  He attended Westmont High School, W & J College, and served as a Captain in the U.S. Airforce.  Dr. Stept received his medical degree from the University of Pittsburgh and completed his residencies and fellowship training in surgery and urology at Allegheny General Hospital, Western Pennsylvania Hospital, and New York University Upstate in Syracuse, N.Y.  A consummate health care professional, Lenny made a name for himself by practicing as an expert in general urology.  He was an Assistant Professor of Urology at the University of Pittsburgh School of Medicine.  His hospital affiliations were through UPMC Hospitals, comprising St. Margaret, St. Clair, Magee-Women's Hospital, and Shadyside. Throughout his career, Dr. Stept contributed his expertise and knowledge to many health organizations in Pittsburgh and internationally including recent travel to Zambia, Africa to treat patients and educate medical professionals.  After his volunteer work in Africa Lenny stated, "This was a life changing experience that I could not have gotten in any other venue." He was active in many local charities and nonprofits including serving on the Boards at the Pittsburgh Zoo and Catholic Charities.  Lenny was also actively involved with the Carnegie Museum of Natural History and the Pittsburgh Symphony Orchestra.  He was an enthusiastic supporter of the arts and enjoyed traveling, accompanying the Symphony with his wife, Kathy, throughout Europe.  Lenny loved Pittsburgh, and in particular Shadyside Village, where he was well known and adored by neighbors and business owners. Working to serve others up to the last day, Lenny died "with his boots on" having just retired from his medical practice hours before he was called. He had performed a literal life time of dutiful service with over 53 years in the medical profession caring for the health of others. Lenny was loved by all who knew him and will be missed by his many friends, relatives, and patients. His memory will forever live in the hearts and minds of those he touched. Services at RALPH SCHUGAR CHAPEL, INC., 5509 Centre Avenue, Shadyside, on Sunday at 1 p.m. Visitation one hour prior to Services (12 noon -1 p.m.). INTERMENT PRIVATE. Donations can be made to Rodef Shalom, Catholic Charities, and the Pittsburgh Symphony Orchestra. www.schugar.com
Condolences
Send Condolence
Lenny was instrumental in startup of the Pittsburgh Free Clinic by generously donating his time, advice, friendship and humor to us during that difficult and exciting time. He lived his life with the basic axiom: "Do unto others as you would have them do for you." Obviously he should not have retired. We are all better for having known him.
By John "Spike" Pfahler
- June 28, 2017
---
I worked with Dr. Stept at West Penn Hospital in the late 1960's and lost track of him after I moved from Pittsburgh. It is wonderful to see how full his life was and all that he did for caused that were important to him I must say that's no surprise. My condolences to his family.
By Anita DeRosa Porco
- June 21, 2017
---
As a patient I appreciated his knowledge and unhurried explanations. A model for physicians.
By Dale Fruman
- June 08, 2017
---