Claire K. Horne

November 20, 2018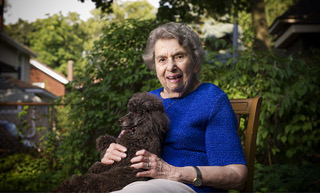 Visitation Information
November 27 2018 - 10:00 am
Friends may meet at Ralph Schugar Chapel, Inc., 5509 Centre Avenue, Pgh, PA 15232

Funeral Information
November 27 2018 - 11:00 am
West View Cemetery of Rodef Shalom Congregation


Clarice K. Horne, a hardworking volunteer for more than 50 years at UPMC Shadyside and UPMC Hillman Cancer Center, died on Tuesday, November 20, 2018. She was 92 years old. Her death was announced by Louise R. Brown, executive director of the Shadyside Hospital Foundation, where Mrs. Horne served as a director. Mrs. Horne was born on January 1, 1926 in New York and had what she always considered the good fortune to be adopted by Hyman and Elizabeth Silverstein Kalovsky of Donora, Pennsylvania, where she grew up. A Hadassah volunteer in her younger days, Ms. Horne began volunteering at UPMC Shadyside in 1968, shortly after her late husband, Lloyd Horne, MD, an endocrinologist, joined the medical staff there. "As a doctor's wife, you were expected to do these things," she told The Voice of UPMC Shadyside magazine in 2012. The Shadyside Hospital Auxiliary assigned her the job of sewing slings, tray covers, and baby booties for the hospital. "Most members sewed beautifully," she recalled. "But my seams just meandered." So she took on a new job: volunteer baby photographer. Although she worked full-time managing her husband's office, she took pictures of all the newborns at the hospital six and sometimes seven days a week for 29 years. Her photographs raised thousands of dollars for Shadyside, and for years people would stop her on the street, remembering that she took their babies' first pictures. "One time a mother named her baby for me," she said. "I was so thrilled I burst into tears." Although Ms. Horne "retired" from baby photography in 1996, she continued to volunteer as a patient advocate several days a week, arriving at 5 a.m. to staff the main information desk in Posner Tower, helping out in the Day-of-Surgery waiting room, and also visiting with hospitalized patients, talking in her easy, low-key way about "whatever they want to talk about—their families, friends, travel, the Steelers—anything except religion and politics!" Thursdays were her days at Hillman Cancer Center. In addition, she worked at the Auxiliary's monthly sales in the West Wing of UPMC Shadyside. She served as president of the Auxiliary from 1996 to 1998 and in 1991 received the first-ever Mary Moorhead Volunteer Excellence Award. Mrs. Horne faithfully attended Shadyside Hospital Foundation board and committee meetings as long as she was able. Her volunteer work gave her valuable insight into the hospital's services and patient needs. "Volunteering is my job, and I enjoy it," she said. "The satisfaction of volunteering is knowing you have made a difference in someone's life, even for a day. I believe we're put on earth to help people." Friends may meet at Ralph Schugar Chapel, Inc., 5509 Centre Avenue on Tuesday, November 27, 2018 at 10 AM and then proceed to West View Cemetery of Rodef Shalom Congregation for 11 am Graveside Services.

Condolences
Send Condolence