James H. Rich

December 8, 2018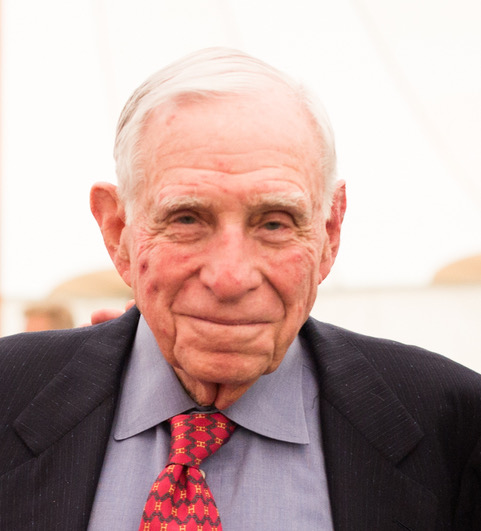 Funeral Information
December 11 2018 - 12:00 pm
Rodef Shalom Temple, 4905 Fifth Avenue (at Morewood), Pittsburgh PA 15213
THERE WILL BE NO PRIOR VISITATION TO THE SERVICE BEGINNING AT 12 PM.

RICH, JAMES H.: A pioneer investor in radio, cable television and private equity, a contemporary art collector, philanthropist, and World War II veteran died on Saturday, December 8, 2018 at home in Pittsburgh, at age 96. Loving husband for 64 years of the late Idamae Brody Rich and adored by his children and grandchildren, Jim was known to many as a brilliant investor with an intuitive sense of the future. He was a kind, generous man who exemplified a spirit of fairness and cared deeply for his family and his community. Until the last years of his life, Jim did not speak of the Air Medal he was awarded by the Allied Air Forces, nor of his harrowing experiences from '44-'45 as a radio operator on converted DC-3 passenger planes in the Southwest Pacific. Prior to enlisting, he had wanted to become a professional pilot, and had learned to operate DC-3 instruments as a student at Boeing School of Aeronautics in Oakland, CA. A graduate of Taylor Allderdice High School, Jim attended Duquesne University while working evenings as overseer of attorneys who were paid by the WPA White Collar Project. The $100 a month job enabled him to get his studies done, and to purchase a Chevrolet for $750. In his first post-war career, as a printing broker, Jim negotiated for Pickwick Press to secure the contract for the local programming insert for TV Guide. When Pickwick Press started to fail, Jim studied a book on how to bid a printing job, purchased Pickwick for $1,000, assumed its debts, and re-negotiated a contract with TV Guide. He was successful enough to acquire another press and merge it with the first; but changes afloat caused the loss of the TV Guide job, and the end of Pickwick-Morwick. A father of two young children without income in his future, Jim decided to apply for a job as a car salesman. He sat outside a dealership in his Chevrolet, unable to swallow his pride, and walk in the front door. Ingenuity and determination went into high gear. Jim went on to invest in as many as forty businesses country-wide throughout his life, including WAMO AM/FM in Pittsburgh; radio stations in Buffalo, Boston, Miami and Chicago; cable television in Ohio; background music; equipment leasing; the chain Athlete's Foot (with the late Robert Lando) and the production of clean room hospital supplies. Along the way, Jim renewed his pilot license and purchased a Cessna Skymaster, flying it for business and pleasure, or at every opportunity he could invent. Jim and Idamae enjoyed traveling throughout the world, and shared an interest in contemporary art, which they collected at auctions in New York and London. They enjoyed a strong bond with and traveled to art fairs and galleries with Richard Armstrong during his tenure as Director of the Carnegie Museum of Art. Now Director of the Solomon R. Guggenheim Foundation, Mr. Armstrong wrote to their daughter Katy: "An elegant and devoted couple, Jim and Ida Mae Rich were adventurous and discerning collectors of contemporary art. They were as well generous and long-time allies of Carnegie Museums of Art, and great partisans for the arts in Pittsburgh." Jim was an Honorary Member of the Carnegie Museum of Art Board, and he and Idamae were members of the Carnegie Noble Quartet Society. Jim's charity extended to many other arenas, with a keen interest in early education for children with special needs and in underprivileged areas. He was a member of The Pittsburgh Golf Club and Duquesne Club, and a former homeowner at Ocean Reef Club in Key Largo, Florida. Jim Rich is survived by his loving companion of nearly eight years, Marcia Weiss, and by daughter Kathryn Sherman (Frederick), daughter- in-law Abigail Rich, grandchildren Nicholas Rich (Cara), Katherine Rich, Elizabeth Delman (Scott), Madeline Whitehill, Alexis Sherman-Roe (Ally) and Nathaniel Sherman (Ellie), and by great-grandchildren Hunter Rich, Lucas Rich, Crosby Rich and Ella Scott Sherman. He is preceded in death by his wife Idamae, his son, James H. Rich, Jr. and his brother Robert K. Rich. Services at Rodef Shalom Temple, 4905 Fifth Avenue, (at Morewood) Pittsburgh PA 15213 on Tuesday at 12 pm. Interment West View Cemetery of Rodef Shalom Congregation. For those who wish, donations in memory of James Rich may be made to Children's Home of Pittsburgh, 5324 Penn Avenue, Pittsburgh, PA 15224. http://www.childrenshomepgh.org/donate-now/. Arrangements entrusted to Ralph Schugar Chapel, Inc. www.schugar.com

Condolences
Send Condolence
The obit was very descriptive, and could have included even more adventures and accomplishments of this very special good friend. Last of an era. The lives of Jim and Idamae could be written up in a book. Pittsburgh will always be proud of these two who made it their home base. A truly very great loss. He and my husband were best friends and I loved him. Condolences to all the family.
By Nancy Muskin
- December 08, 2018
---