Alan Skirboll

May 10, 2019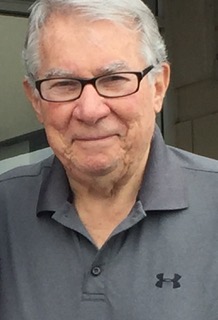 Funeral Information
May 12 2019 - 10:00 am
Ralph Schugar Chapel, Inc., 5509 Centre Avenue, (Shadyside) Pittsburgh, PA 15232
NO PRIOR VISITATION

SKIRBOLL, ALAN BARRY: Born on July 14th, 1933, died on May 10th 2019. He was a devoted son of the late Jack and Anne Skirboll, loving husband of almost 59 years to Jackie Loikrec Skirboll. Amazing father to Eve Skirboll, Robin Skirboll (Mark Blecher), Jim Skirboll, and Dory Skirboll Levine (David Levine). Zaydie to Jake Dater, Nina Dater, Zoe Skirboll, Haley Levine, Thomas Levine, Milo Blecher and Ari Blecher. Phenomenal brother to Linda Zwang and the late Stanley Skirboll. Compassionate uncle to his nieces and nephews. Alan was an entrepreneur small business owner of Diamond's 5 &10, Franklin 5 &10, Franklin Fabrics, Penn Variety, The Salad Company, The Second Plate, Dorian's Catering, The Coffee Shoppe at Montefiore Hospital and U-Parc. He was a member of the Tree Of Life Congregation and men's club and volunteered at the Squirrel Hill Food Pantry. He was an avid squash and pool player at the Jewish Community Center of Greater Pittsburgh.  Alan had an amazing characteristic of making everyone feel special when meeting them. He made the world a better place and he was truly one of a kind. Big Al will be deeply missed. Funeral services will be held at Ralph Schugar Chapel, Inc., 5509 Centre Avenue, Shadyside on Sunday May 12th, at 10 AM. NO PRIOR VISITATION. Interment Beth Shalom Cemetery. Donations can be made to the Tree of Life*Or L'Simcha Congregation, 5898 Wilkins Avenue, Pittsburgh PA 15217 and the JFCS Squirrel Hill Food Pantry, 5743 Bartlett Street, Pittsburgh PA 15217. www.schugar.com

Condolences
Send Condolence
I was so sorry to hear about Alan's death. He was such a kind man and so sweet to my grandson at the pool. My condolences to you Jackie and the rest of your family.
By Doris Braun
- May 13, 2019
---
I knew Alan from a business deal we never did, but about which we never stopped kidding each other. Each time I walk past the pool table at the JCC Platinum Health Club I will remember this terrific guy.
By Steve Holstein
- May 12, 2019
---
We were truly saddened to hear of the passing of Mr. Skirboll, as I always called him as a young child at the H. Levitt Co. Our thoughts and prayers are with you and your familiies.
By Lillian and Elaine Levitt
- May 12, 2019
---
To the Skirboll's, My heartfelt condolences. I will miss my Uncle who always made everyone feel loved, accepted and appreciated. I have decades of memories that have included him. Love to you all, Shelley
By Shelley Kronzek Miller
- May 12, 2019
---
To the Skirboll Family, Sorry for your loss. We will miss him too. Uncle Alan was an amazing guy. Love, Laura
By Laura Legnine
- May 12, 2019
---
My deepest condolences to the family. I had the pleasure of working with Alan at The Second Plate. He was a very well respected man.
By Judy Levy
- May 12, 2019
---
I'm was so sorry to learn of Alan's passing. I really enjoyed spending summers at the pool with him. I had no idea he was struggling with his health. He was an amazing guy and he will truly be missed.
By Mickie diamond
- May 11, 2019
---
Our thoughts are with the Skirboll family, as they remember Al Skirboll today.
By The Newstadt Family
- May 11, 2019
---