Philip Meyers Landau

February 11, 2020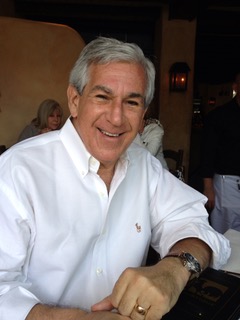 Visitation Information
February 13 2020 - 10:00 am
Ralph Schugar Chapel, Inc., 5509 Centre Avenue, Pittsburgh (Shadyside) PA 15232

Funeral Information
February 13 2020 - 11:00 am
Ralph Schugar Chapel, Inc., 5509 Centre Avenue, Pittsburgh (Shadyside), PA 15232


Dr. Philip "Phil" Meyers Landau, 69 years old, of Pittsburgh, PA, passed away peacefully on Tuesday, February 11th, 2020, after a long and courageous battle with advanced heart failure. Surrounded by a family that adored him, he lived a life of unconditional love and kindness and will be forever missed by his devoted wife of almost 44 years, Myra; his three daughters, Lauren (David) Goldberg, Meredith (Rishi) Maheshwary, and Erica (Brian) Kelly; his grandchildren, Paige, Liza, Will, Emily, Jacob, and Brooke. He was preceded in death by his beloved parents, Ruth and Herbert Landau. Born on November 21, 1950, Phil grew up in Squirrel Hill and graduated from Taylor Allderdice High School. He was a Phi Beta Kappa graduate of The Pennsylvania State University and The University of Pittsburgh School of Medicine. Board certified in Internal Medicine, with a Geriatrics focus, Phil's medical career spanned 37 years. He was a devoted physician who practiced at St. Margaret's Hospital, HealthSouth Harmarville Rehabilitation Center, and Allegheny Health Network. He served as Medical Director at Longwood at Oakmont from 2003-2017. During the course of his career, Phil's knowledge, professionalism, compassion, and dedication was always apparent in the level of love, attention, and care he gave to his cherished patients. At the heart of Phil's life was his family, who will forever call him their best friend and hero. The embodiment of love, devotion, selflessness and integrity, Phil was the ultimate husband, father, father-in-law, and Pop-Pop whose greatest joy came from spending time with those he loved. As his family grieves this loss, they hold close Phil's legacy of genuine and unparalleled kindness. Phil Landau made the world brighter. The Landau family would like thank all of those who have given them strength, especially Dr. Craig Alpert and the heart failure team and staff at Allegheny General Hospital. Services at Ralph Schugar Chapel, Inc., 5509 Centre Avenue, Shadyside on Thursday at 11 am. Visitation one hour prior to services (10 am - 11 am). Interment Private.  Contributions may be made to the American Heart Association, 444 Liberty Avenue, Suite 1300, Pittsburgh, PA 15222 or the Friendship Circle of Pittsburgh, 1922 Murray Avenue, Pittsburgh, PA 15217.  www.schugar.com
Condolences
Send Condolence
Dear Landau family, Nirmal and I feel very lucky that we came in contact with Dr. Phil Landau, the most amazing human being God sent on earth. I have lived in USA since 1971, and I can say it without even an iota of doubt that Phil was the kindest, gentlest, the most honorable, the most lovable person I have met. He had no ego, never saw even a frown on his loving and smiling face ever. We are so glad, our son Rishi married his middle daughter so we could know and had the pleasure of associating with through these ten years. I had grandiose designs to spend time more quality time with him after he fully retires, like a cruise, a family vacation together, invite him to Football Hall of Fame in Canton, Ohio where Steeler's Coach is to be honored and enshrined in August 2020. But it was not to be. Instead, it was God's Will to enshrined Phil in our Hearts forever. We were fortune to have paid our last respects to him at the Ceremonies at Schugar Funeral home as well as at the Cemetery. Phil's unconditional love will stay with Landau's daughters, Wife of 47 years Myra in spirit forever and all the family and friends are indebted to him for showing us what the Life is All About! R. I. P. my friend!!!
By Surinder Maheshwary
- February 18, 2020
---
Please accept our sincere sympathy! Phil was so kind and encouraging, to both my mom and myself when she was at Harmarville. May his memory be a blessing
By Fern and Alan Steckel
- February 14, 2020
---
Such a loving man who was clearly devoted to his family, friends and patients. I always loved conversations with him as he had such a positive, gentle nature. He will be so dearly missed.
By Laura Maheshwary
- February 13, 2020
---
my heart felt sympathy to you and the girls. Phil was a very special man and will be sorely missed by everyone who knew him.
By Barbara Broff Goldman
- February 13, 2020
---
Miss him already. Phil was a shining example of a wonderful father, husband, friend, and doctor. May his memory be a blessing.
By Dan Goldman
- February 13, 2020
---
He was one of the most compassionate doctors I ever worked with. We were lucky to have him at Longwood. Thoughts and prayers for the family.
By Melissa Tomko
- February 13, 2020
---
With great sympathy to Myra, Erica, Lauren, Meredith and the entire Landau family on Phil's passing. We know that there will always be a hole in your heart, but we hope that the love and memories you have shared will help to partially fill it. Our prayers for strength for all of you in the tough days ahead.
By Darby Kelly and Jane O'Neill
- February 13, 2020
---
No words can accurately describe the loss felt by Dr. Landau's passing. As family friends, he and Myra are the most sincere, kind people we know. Phil had the ability to make one feel special and cared for by the simplest of conversations because he was the epitome of genuine. While we are not there to mourn with you in person, our hearts, thoughts and prayers are with Myra, the girls and everyone in the Landau Family. Phil will be deeply missed by all who knew him.
By Robin Goldman
- February 12, 2020
---
Our deepest sympathy to Myra and her beautiful family. We sharing him as a neighbor and a friend for many years. . May his memory be a blessing to all. .
By Bobbi and Berel Broffman
- February 12, 2020
---
I was deeply saddened, to learn of the death of fellow Taylor Allderdice High School 1968 fellow classmate, Dr. Philip Landau. We shared a Drama class, taught by Mrs. Mussoff. My prayers, to Phil's wonderful family, during this difficult time. Phil Landau made this world, a better place. Aviva Radbord
By Aviva Radbord
- February 12, 2020
---
He was a wonderful man. Everything said in the obit and more are the about PHIL.
By Ruth and Jack Adelson.
- February 12, 2020
---
Thinking of you, dear Myra, and am so very sorry to learn of Phil's passing. I remember him always as a kind and gentle man with the sweetest smile. Sending love to you and your special family.
By Susan Slone
- February 12, 2020
---
We were deeply saddened to learn of Phil's passing and wish to offer our deepest, most heartfelt condolences to his family. Phil was special and will be missed by all who knew him.
By Shereen and Paul Rosenberg
- February 11, 2020
---
To Myra, Lauren, Meredith and Erica... YOU are and always will be the great loves of your beloved husband and father. Phil's legacy is absolutely one of immense kindness and compassion to all who were fortunate enough to know him. May you find comfort in the love that surrounds you. Our thoughts and prayers are with your family during this time.
By Holly and Bob Zulick family
- February 11, 2020
---
I am so sorry for your loss, Myra and family. What a wonderful man Phil was, always so kind to me and especially to my daughter, Susan. Hold onto those beautiful memories of him close to your hearts ❤️. And be thankful for the many fun times your family has enjoyed with Phil. You have been blessed.
By Bobbye Flecker
- February 11, 2020
---
Landau Family So very sorry to hear about Dr. Phil's passing. I have so many fond memories of our times together on Timber Ridge Road. He was the best husband, father, grandfather and doctor!! Phil will be dearly missed by all who were blessed to know him! Stuart
By Stuart Hoffman
- February 11, 2020
---