S. Leonard Shufler

February 16, 2020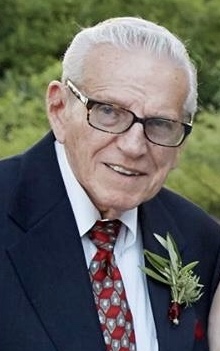 Visitation Information
February 18 2020 - 12:00 pm
Ralph Schugar Chapel, Inc., 5509 Centre Avenue, (Shadyside) Pittsburgh 15232

Funeral Information
February 18 2020 - 1:00 pm
Ralph Schugar Chapel, Inc., 5509 Centre Avenue, (Shadyside) Pittsburgh 15232


S. LEONARD SHUFLER: Of Squirrel Hill, born on Aug. 4, 1927 in Scranton, PA, passed away on Sunday, Feb.16, 2020. Beloved husband of 57 years of the late Phyllis Levine Shufler. Beloved father of Daniel E. Shufler, M.D. of Wilmington, DE, Debra (Brian) Moidel of Mt. Lebanon and Betsy Shufler of Squirrel Hill; beloved grandfather of Justin (Honor) and Brandon Moidel; son of the late Max and Sarah Shufler; brother of the late Adeline Wolfson, Freda Keller, Lillian Walters, Ann Stahler, Evelyn Goldstein, Morris Shufler, Ruth Stoltz and Eleanor Popky. He is also survived by many nieces and nephews. Leonard received his undergraduate degree in physics from the University of Scranton and his masters degree in nuclear physics from the University of Pittsburgh. Leonard worked at Westinghouse Bettis Atomic Power Lab for 35 years, as a nuclear physicist and manager. His major project was designing the nuclear reactor for the USS Nimitz Aircraft Carrier. Leonard served in the US Navy during WWII. Leonard was very active at Tree of Life Congregation, especially on the Social Action Committee. He was instrumental in helping to settle many Soviet Jews that arrived in Pittsburgh during the 1970s and 80s. He also was involved with the East End Cooperative Ministry. Leonard loved traveling the world with Phyllis which included visiting relatives. He enjoyed playing the piano by ear, golfing, watching Pittsburgh sports teams and chanting Haftorah at synagogue. He was a righteous and religious man and will be missed by all who had the good fortune of knowing him. Services at Ralph Schugar Chapel, Inc., 5509 Centre Avenue, Shadyside on Tuesday at 1 PM. Visitation one hour prior to services (12 Noon - 1 PM). Interment B'nai Israel Cemetery. Contributions may be made to Tree of Life Congregation, 5898 Wilkins Avenue, Pittsburgh, PA 15217 or American Cancer Society, 320 Bilmar Drive, Pittsburgh, PA 15205. www.schugar.com

Condolences
Send Condolence
Dearest Justin,Honor and family, We are so sorry of your loss of such an amazing and lovely man. What a blessing that you had him in your life and that he will continue to shine through the love in your hearts.
By Gracine and Edward Sfreddo
- February 18, 2020
---
My condolences to the Shufler family. I knew Len at Bettis during the Light Water Breeder Reactor days and working with him, while only briefly, was a great help to my career there.
By Benoit Beaudoin
- February 18, 2020
---
So sorry for the loss to the family. He was such a kind and funny great uncle. May his memory be a blessing.
By Rebecca popky
- February 17, 2020
---
Very sorry to hear of the passing of Uncle Shimmy.
By Elliot Stahler
- February 17, 2020
---
Phyllis and I send our condolences to all. Uncle Shimmy will be missed. ז״ל
By Larry and Phyllis Stahler
- February 17, 2020
---
Gail and I were so sorry to hear of Uncle Shimmys passing. He was my favorite Uncle. Love ,Mark & Gail Stoltz
By Mark & Gail Stoltz
- February 17, 2020
---
My condolences on the loss of your father
By Heather and Brian
- February 16, 2020
---