David A. Dinkin

March 14, 2020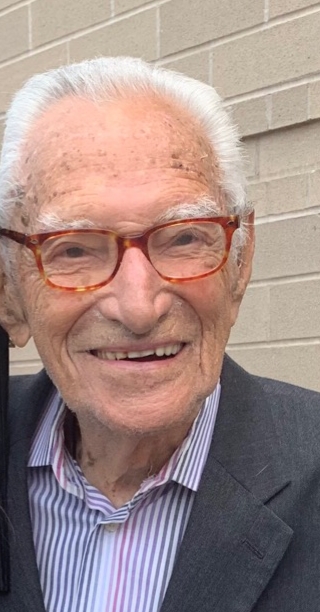 DAVID A. DINKIN
Age 97, of Pittsburgh, passed away on Saturday March 14, 2020. Beloved husband of the late Betty Dinkin (Brourman), loving father of Marc (Deborah) Dinkin, Rachael (Bruce) Rosen, Joel (Elena) Dinkin and Elliot (Laura) Dinkin; proud Zeyda to many adoring grandchildren and great grandchildren; and special companion to Edie Pearlman.
David, who was born and raised in Philadelphia, graduated first in his High School and then attended the University of Pennsylvania and Graetz Hebrew College of Philadelphia. After serving in WWII, and originally settling in Philadelphia, moved to Pittsburgh to work for the Brourman family business. From there, he was fortunate to go on to his true love and passion, being the Executive Director of Tree of Life Congregation. While there, he gladly took on additional roles as Principal of the religious school and acting Rabbi. In his role, he not only effectively managed this flourishing congregation but actively participated in teaching children and adults. He was a true believer in the value of education, especially Jewish education and tutored countless students preparing for their bar or bat mitzvah. Following his retirement, he then went on to work at the Jewish Community Center of Pittsburgh in multiple roles – ranging from accounting to education. After retiring from that position, he continued to deliver weekly lectures to multiple organizations covering a wide array of topics ranging from on current events, Jewish holidays, and other topics.
David was an accomplished pianist who loved classical music and was a long-time subscriber to the Pittsburgh Symphony. David loved to travel and led many trips to Israel during his tenure of executive director, even volunteering at an Israeli military base at age 82!
Dave was a pillar in the local community and universally admired for his ease in communicating and identifying with people of diverse backgrounds. The current situation permits only a private family service and a memorial service planned later. In lieu of flowers, please feel free to donate to the charity of the donor's choice.
Condolences
Send Condolence
The passing of Dave Dinkin leaves a gaping hole in Pittsburgh's Jewish community. Dave's presence among us was as much a part of our Jewish lives as the chanting of a prayer during services. I knew Dave from the JCC, Tree of Life, Weinberg Terrace and pretty much anywhere and everywhere in Squirrel Hill. So did everyone! He was a good man and someone who's legacy will be larger than life. I am so sad to learn of his passing, but I am a better person having known Dave Dinkin. His memory will be for a blessing.
By Bill Cartiff
- March 18, 2020
---
David was a great Jew and a wonderful man. He was so kind and supportive of me when I served as TOL's student cantor. I always loved seeing him walking to shul, as I passed him (driving!). Lovely, lovely soul.
By Michele Gray-Schaffer
- March 18, 2020
---
"Mr. Dinkin" will always have such a special place in my heart as well as my whole family. Whenever I would see him he would always ask how my mom and dad were...even in his later years! He was one of a kind! He played a role in my whole life! I will miss him very much! Ella Zeilinger Ziff
By Ella Ziff
- March 17, 2020
---
So sad to hear the news on the passing of Mr Dinkin. He was a beautiful soul. He was very kind, gentle and caring to our family at a very difficult time in our lives. Condolences to the Dinkin Family.
By Lori Taper
- March 17, 2020
---
We are sending you so much love and comfort at this time. Holding you in our hearts. ❤️
By Becca Sufrin and family
- March 17, 2020
---
My deepest condolences. David was my first English teacher when I arrived to Pittsburgh 30 years ago as a refugee. I will miss him.
By Marsha Shisman
- March 17, 2020
---
What a wonderful world it would be if more of us were like David Dinkin. His life should be a role model for future generations. He was a very special person.
By Bruce Rabin
- March 17, 2020
---
I loved Mr. Dinkin. Actually, I\'m pretty sure that every child that ever passed through the doors of Tree of Life while he was there loved him. He was the kind of man that earned your respect very quickly and you never wanted to disappoint. He was there for me as a little Hebrew School and Sunday School kid all the way through my bar mitzvah, confirmation and USY years. He was the heart and soul of Tree of Life and a true pillar of the Jewish community. To his children: your father was an amazing man who positively affected the lives of so many for so long.
By A former Tree of Life kid
- March 17, 2020
---
He was a very intelligent and gentle man. I enjoyed speaking with him and hearing his point of view on current events. I will miss him. Baruch Dayan Emet.
By Eli Seidman
- March 16, 2020
---
I\'m so saddened by his loss, David mentored me through my presidency of the Western Pennsylvania Region of the United Synagogue and then a vice-president for the National Region. He mentored me all the way. He was so well liked by everyone - he was such a mensch. Rest in peace David. HARRIET KRUMAN
By Harriet N Kruman
- March 16, 2020
---
On behalf of all the staff of Weinberg Terrace. Our deepest condolences
By Rena Becker
- March 16, 2020
---
We are so sad to hear of Dave's passing. He was truly a pillar of the Jewish community.
By Marcy & Harvey Kronzek
- March 16, 2020
---
, עצוב עצוב הכרנו את דוד הרבה הרבה שנים. זכור לנו זמן חברותינו בקהילת ״עץ-חיים״ כאשר היה מבצע את התפילות ועוד... קשר נהדר היה לי כאשר נפגשנו כל יום רביע ב ב״גיי סי סי״ לשחק ״ bounce ball ״ ולאחר שוויץ לארוחת ערב... דוד נזכור אותך לרבה שנים כמופת ודוגמא.
By Michael and Janet Kamon. מיכאל וג׳אנט קמון
- March 15, 2020
---