Jayne (Jaynie) Lebowitz Crist

June 1, 2020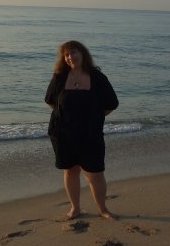 Jayne (Jaynie) Lebowitz Crist, 54, of Pittsburgh, died suddenly on June 1, 2020 at her home. Jaynie was born on November 27, 1965 in Ellwood City, Pennsylvania to Lenora (Leni) and Milton (Sunny) Lebowitz. She attended Mount Lebanon High School, graduating in 1983 and attended Ohio University in Athens, OH.  
She loved music, especially Jackson Browne, Jimmy Buffet, and John Denver and was an avid reader.  She was devoted to her animals and a great advocate for dog rescue services.  Jaynie loved the beach and took every opportunity to swim in the ocean.  She loved Steeler football and cheered on her team even during losing seasons.
She leaves behind, her mother, Lenora Lebowitz of Baltimore, her sister Susan Haid Tucker (Ron) of Fort Smith, AR, her niece Stacey Haid (Rebecca) of New York City, and nephew Jason Haid (Christen) of Fort Smith, AR and her great niece and nephew, Isaac and Elyse Haid, and her special friend, Matthew Shamonsky, of Pittsburgh, along with many close cousins and friends.
She was preceded in death by her father, Milton Lebowitz, and husband Joseph Crist.
In lieu of flowers,  family requests any donations to be sent to Shepherds Without Borders, PO Box 104, West Enfield, ME  04493, https://shepherdswithoutborders.org/, or any dog rescue of your choice.  Private interment entrusted to Ralph Schugar Chapel, Inc. www.schugar.com.  A Zoom Memorial service will be held at 10:00 EDT on Wednesday, June 10, 2020.
Topic: Jayne Lebowitz Crist Memorial Service
Time: Jun 10, 2020 10:00 AM Eastern Time (US and Canada)
Join Zoom Meeting
https://us02web.zoom.us/j/85276789931
Meeting ID: 852 7678 9931
One tap mobile
+13126266799,,85276789931# US (Chicago)
+16468769923,,85276789931# US (New York)
Meeting ID: 852 7678 9931
Find your local number: https://us02web.zoom.us/u/kuNarkSK6
Condolences
Send Condolence
I just heard about Jayne's passing and I am so sad to hear this news. Jayne was so cool. I met her while working at T-Mobile in our small cell group. We had to call into Crown Castle NOC daily for status on tickets we had opened with them. Jayne was a riot! I always knew when I heard her voice I was in great hands and would have be having a laugh/giggle fest and sore sides during my call. :-) She always had things in order and cranking! Our whole small cell group loved interacting with Jayne, she was Sharp! I'm still stunned and can't believe she's gone from us. Definitely, this world seems a little darker without her humor and funny perspectives. I will miss hearing her voice and the light and laughter she always brought to our Crown and TMo interactions. I hope you're having a blast on the 'other side' checking it all out. I'm sure there's a Big party going on somewhere with all your loved ones happy to have you Home. It was a real pleasure knowing you, Jayne, rest in peace my friend.
By Susan Bolz
- June 14, 2020
---
Susan, been thinking and praying for all your family. So sorry for the loss of your sister. Hoping you get to be with your mom and other family members soon. Please extend our sincere condolences to your sweet mom. Love and hugs, Katie and Ron D
By Katie Wright
- June 10, 2020
---
Leni, I am so very sorry for your loss. My deepest condolences to you and your family, from Sibyl's daughter, Toby
By Toby Gordon
- June 10, 2020
---
Jayne Rest In Peace. Jaynie had the ability to care for anyone and her sense of humor was awesome. Jayne and I spent many night shifts talking about anything from Jackson Brown to what Sasquatches preferences were for food and beverage hahaha! We will miss you Jaynie, the world got a little darker without you.
By Ian Eloi
- June 10, 2020
---
I got to know Jayne at work here at Crown. She was an amazing, funny, special woman. We shared a certain sense of humor and way of viewing the world. We had so many fun conversations and exchanged ideas about so many things, serious and funny. I am so sad that we have lost her and I will never forget her.
By Randy Oliver
- June 10, 2020
---
Dear Lebowitz family, I'm so sorry for your loss, Jayne was a sweet kind person just like her mom and dad. My prayers are with you and God Bless.
By Billy Pilossoph
- June 10, 2020
---
Jayne was an incredible person. Always willing to help her friends and co-workers at the drop of a hat. I had the privilege or sitting next to her for the past year and a half and I can honestly say in all my years of working that she is the nicest, sweetest person that I've ever had the pleasure of working with. She will be dearly missed and never forgotten by her friends and co-workers.
By Ryan Gephart
- June 10, 2020
---
Jayne was an awesome person, always thinking of others before herself, I have worked with Jayne for many years, she made night shift bearable. I will always remember the night I went to ask her a question, I said Jayne, Jayne and she just looked me straight in the eye and said " Sawyer Brown won the Voice" That was just one of the many laughs we had. I'm proud to say that I'm a better person having Jayne as a co-worker and more importantly a FRIEND. Jayne, I will miss you!
By Jeffrey Pillar
- June 08, 2020
---
Jaynie and I have been friends since working together at OSI over 20 years ago. We were planning a reunion in Clearwater later this year. What a tremendous loss! She is one of the warmest, sweetest souls I've ever known. Jaynie, I will never forget your love & friendship. We will always be "Butya girls" since meeting and partying with Hines Ward there many years ago! I will always cherish that memory. To her family, so so sorry for your loss! Love you Jaynie always ❤️
By Lisa Gottschalk
- June 08, 2020
---
Our thoughts and prayers are with all of your family. Jayne was that special kind of person who would become your friend in an instant! She was a dynamic, happy and caring individual - she will be missed so much by so many.
By Dan and Patty Kaley
- June 08, 2020
---
All my thoughts are flying from the old continent to the new for your whole family. Rest in peace, my friend Florian.
By Florian
- June 07, 2020
---
My deepest sympathy to your family on your loss. I met Jaynie at Red Rocks, and remained a friend via Facebook. She was a sweet and kind lady who knew how to lift others up through her joy. May the Eternal Light shine upon her. May the Lord comfort you now and always. Love and prayers to all.
By Carolyn Hoglund
- June 06, 2020
---
Will miss Jaynie so much. My condolences to her family and friends. She was a sweetheart. May she rest in peace.
By Deborah Chapman
- June 06, 2020
---
I am heartbroken over this loss. Our paths crossed over and over again throughout our lives, first from when we were at Camp Deer Creek when we were 7, then at 12 years old we both attended Camp Emma Kaufman, then we wound up in the same homeroom together for 4 years at Mt Lebo HS. Then, 20 years later we wound up in the same hospital together, having the same surgery, from the same doctor, and then came to find out that we lived four doors down from each other. Crazy. I was there when she first met Joe and fell in love. I was there when she lost him. Jaynie and I lost touch over the last couple years, but she has always been on my mind. Jaynie, your family is in my heart and prayers.
By ioulía Jill Kornberg
- June 06, 2020
---
my sincere sympathy to jaynie's family and friends. i was lucky enough to meet her through the jacson browne groups we were in together. sadly due to the corona, our concert ws postponed for a year. jaynie, carol and julie were meeting us in hershey 6/14 for drinks b/f the show. i am so sad that she will miss it. we will lift a glass in her memory as we will be saddened to have her gone. peace be with you. love, bobbie enke
By bobbie enke
- June 06, 2020
---
I saw Jayne A few years ago which was the first time since 1986. We went to high school and college together. What I most remember about Jayne was her genuine kindness and desire to take people under her wing, be their sister. She collected wounded people and gave them her friendship. I don't think she ever knew a stranger. She will be greatly missed. I will always remember her fondly and always appreciate her friendship.
By Leslie Roth Huffman
- June 06, 2020
---
There are no words to express how sad we feel. Our hearts are breaking for all of you. It is a shame that everyone cannot be together at such a difficult time. Please feel the love we send you and our thoughts and prayers are with you. Love, Ruth & Jerry
By Ruth and Jerry Ross
- June 06, 2020
---
Susan, prayers for you and your family. I hope you are able to be with your Mom and give her that special hug and love. If not then realize we are all reaching out to you all. Different things help us "see" those we have lost. A butterfly, the hoot of an owl, a paint brush sky, all make me think of good memories. I hope you all will find that inner peace.
By Christie Waggoner
- June 05, 2020
---
Sending prayers to Jayne, to your family my deepest sympathies. (I worked with Jayne at VZW).
By Rob Ramanna
- June 05, 2020
---
My heartfelt sympathy on the passing of your daughter Jaynie...prayers for your families comfort at this difficult time....although I did not know Jaynie long...it felt like I knew her my whole life...I will miss her friendship....
By Susan Bales
- June 05, 2020
---
You will be missed by so many, Jaynie! Fly high with the angels, my friend! It was an honor knowing you and being your friend! Love always, Sheri
By Sheri Sankner
- June 05, 2020
---
We are so sorry for your loss and share in your grief.
By Kimberly Wohlford
- June 05, 2020
---
Susan.....you have been on my mind and in my prayers .....hoping for healing and comfort from knowing you have a lot of people in Fort Smith thinking about you....we send our love and will wait to give you a big hug " someday"!!😻😻
By Chuck and Kathy Liggett
- June 05, 2020
---
We are saddened by Jaynies passing. We have known Jaynie for most of her life and she left this earth too soon. We are here for you. Prayers
By Ed & Vanessa Mori
- June 05, 2020
---
Jaynie was the most wonderful friend to me. Four years was not enough time. Jaynie was a great listener, and was that friend who was always there, anytime, night or day! I will miss our daily chats, our trips, and our talks about dogs and music. My deepest condolences to her family, Matt, and all of her friends.
By Julie Harding
- June 05, 2020
---