Sanford A. Galanty

July 27, 2020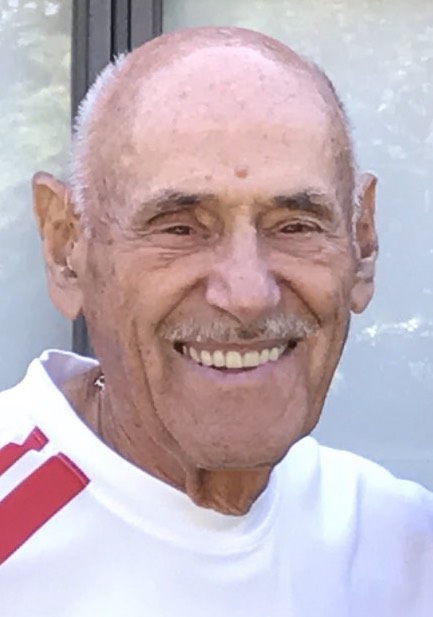 SANFORD "SONNY" GALANTY: Dedicated husband, father, grandfather, business owner and community servant (and golfer) passed away on Monday, July. 27, at home in O'Hara Township at the age of 91. Sonny was born September 30, 1928 in Pittsburgh, to Harry and Bertha Glass Galanty. When Sonny was one year old the family moved from Indiana to Sharpsburg, where Harry Galanty opened a confectionary that became Galanty's Hardware a few years later. Sonny and his older sister Ruthe grew up near the store and attended Sharpsburg elementary and middle school. When Sonny was in 10th grade the family moved again, to Mellon Street in Pittsburgh's East End, where he attended Peabody High School. After graduating, he attended the University of Pittsburgh, earning a degree in business and serving in the ROTC but every day after classes he took the street car to Sharpsburg to work until 9 p.m. with his parents in the hardware store, which he would eventually come to own. Fun-loving and active, Sonny enjoyed skiing in Europe and was a talented table tennis player. He began golfing when he was 17 and played regularly until his 90th birthday, teaching the game to others and, after retirement, enjoying twice-a-week rounds with a standing group of special friends. One of his greatest achievements was shooting a score of 82 on his 84th birthday. Sonny's greatest achievement in life, however, was his family. He met his wife Jan (Swab) on a blind date when he was 31 and she was 20. They married three years later and had a love affair as best friends and partners, an amazing team that met life's challenges with strength and mutual support at every turn -- even building two houses from scratch. Sonny and Jan, who recently celebrated their 58th wedding anniversary, lived first in Stanton Heights, where they began a family with late son Harry (Liz Belanger) and daughter Jill Gallagher (Bill). Sonny loved his family with every ounce of his being, working day and night at Galanty's Hardware to send them to the best schools and provide them with every opportunity possible including special vacations, a tradition that continued as the family grew to include grandchildren Samantha Belanger and Liam and Taryn Gallagher. Sonny's pride in and love for his grandchildren was especially evident via the white sweatshirts with their pictures on the front that was his attire of choice. Each year he received a new shirt with new pictures, allowing him to keep Samantha, Liam and Taryn as well as step-grandson Ben Belanger close to his heart and to watch them grow into accomplished young adults. Sonny was grounded in his Jewish faith throughout his life, as a lifelong member of B'nai Israel Synagogue in East Liberty and continuing when it merged and became Adat Shalom Synagogue in Fox Chapel. Sonny loved his studies in Judaism, attending weekly Shabbat services at Adat Shalom where he was loved by the clergy, staff and other congregants and donating both financially and with his time to synagogue activities. He helped to sponsor others' studies and became a dedicated supporter of Israel. Sonny's 90th birthday was, appropriately, celebrated with a special Shabbat at Adat Shalom, attended by an overflow crowd of family and friends. Sonny's generosity was reflected in the rest of his life as well. He was an active member of the Sharpsburg Rotary, volunteering at the annual Guyasuta Days festival each year -- where, most recently, helped to make and package funnel cakes. He also conducted bingo every Tuesday night for many years for residents of the Veterans Administration hospital. Services and Interment Private. Donations in memory of Sonny Galanty can be made to Adat Shalom, the Sharpsburg Rotary Club, the Alzheimer's Association or any animal welfare charity. Arrangements entrusted to Ralph Schugar Chapel, Inc., family owned and operated. www.schugar.com      
Condolences
Send Condolence
Dear Jill, I was very sad to hear the news of your fathers passing. Sonny was a gentle, generous, gentleman who I know will be sadly missed by all, friends, family, grandchildren and especially his wife and sole mate Jan. I will always remember his love of that little German resturant and it's home made applesauce.... which had to come as a double portion! He had an amazing long and happy life and you are all a representation of how amazing and truly wonderful he was. Sending you massive Scottish hugs and our wishes are with you during these sad times.
By Nick & Gay Christie
- August 04, 2020
---
My condolences to Sonny's family. What a wonderful man and neighbor. He lived life with a "glass half full" outlook that was infectious.
By Leland Schermer
- August 03, 2020
---
I have fond memories of Sonny from B'nai Israel. Sending sincere condolences to his family . May his memory be for a blessing 🙏🏻
By Nancy Tuckfelt
- July 31, 2020
---
I loved talking to Sonny growing up, while he was out walking the dogs. He was a lovely human being who shared so much kindness and his presence was such a gift to us all being lucky enough to grow up with him. Thinking of all of you.
By Anne Greene (Thibadeau)
- July 30, 2020
---
so sorry for your loss.
By Dr.Sandy Davis
- July 30, 2020
---
Sonny lived Life and Life lived in Sonny. He was a truly genuine and caring person. May God grant peace and blessing for him and family. A friend and Rotarian.
By Gio Scolieri
- July 30, 2020
---
Sonny with an 'O' was also Sunny with a 'U.' No matter what difficulties life threw at him, he always had a big smile and a ready laugh, always thought the best of people. I will miss him dearly.
By Vicki Graff
- July 30, 2020
---
Sonny was the big brother that I -- as first-born child of his sister -- never had. 21 years older, he broadened my horizons, often taking me out, introducing me to many topics, activities, people. This included his business and friends, tennis, golf, among other things. His influence, care, and love are unforgettable.
By Harvey Graff
- July 30, 2020
---
Our heartfelt condolences to Jan and the family. May Sonny's memory be a blessing for all of you.
By Mark and Beth Berman
- July 29, 2020
---
A life well lived! Always enjoyed being in the room with family! Sorry for the loss of a great guy in a great family
By Jeff Brown
- July 29, 2020
---
So sorry of the passing of Sonny what a gentlemen he was and one of are best store to shop My mom and dad was a favorite customer of Galantys. I was a young child at that time and then got married and we all shopped there. Thank You Sonny for your kindness and great smile. You will be sadly missed
By RoseMary Kee (Paonessa)
- July 29, 2020
---