Gertrude "Trudi" E. Danenberg

December 27, 2020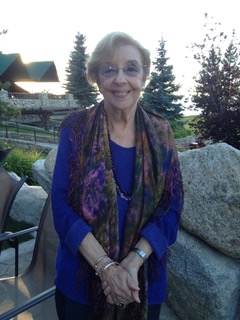 GERTRUDE ("TRUDI") E. DANENBERG: Passed peacefully on Sunday, December 27, 2020 at the age of 92 from natural causes, and covid-related symptoms. Trudi was preceded in death by her parents, Morris and Ethel Epstein, her sister, Lee Simon, and her husband Jerome ("Jerry") Danenberg. They were married for 62 years.
Trudi always lived life to the fullest. She shared her positive attitude, upbeat energy and caring compassion with everyone she met. Her favorite color was purple, she dressed with beautiful combinations and was wonderfully inquisitive --- always fascinated by the lives and stories of the people she knew and met. She loved holding people's hands as she chatted with them and shared her goodness.
Trudi, a graduate of Schenley High School, and her sister Lee were orphaned at an early age, with both girls raised to the Chuppah by their late Aunt and Uncle, Blanche and Carl Margolis.
Trudi and Jerry were inseparable, and together worked side by side at Berkeley Hills Pharmacy in North Hills and in their real estate business. Mom was the "rental agent," interviewing potential tenants and giving the thumbs-ups when she got the right vibe. She and Jerry were partners in every sense. They were always gaining knowledge, making notes and planning their next business and travel adventures together.
She is survived by her children, Bob (Judy) Danenberg and Rick (Paula Lieberman) Danenberg, two grandchildren, David (Rachel) and Adam Danenberg, and two great granddaughters, Gabriella and Liora Danenberg. She will be missed by her nieces, nephews and cousins.
A special thank you to Weinberg Village, her residence over the past few years. Donations in her memory can be made to the Jewish Association on Aging, Tree of Life Synagogue, or a charity of your choice.
Graveside services and internment were at Homewood Cemetery. Arrangements entrusted to Ralph Schugar Chapel.
Condolences
Send Condolence
Dear Bob & Family, Sorry to hear of your loss. Thinking of you at this difficult time. With deepest sympathy, HELENE & BRUCE
By Bruce Landman & Helene Glick Landman
- January 11, 2021
---
My deepest sympathies to you and your family
By Karen Stein
- December 30, 2020
---