Mildred "Middy" Markowitz

December 27, 2020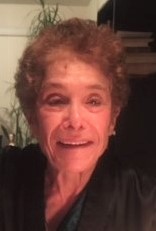 MILDRED ("MIDDY") MARKOWITZ: Age 86, died December 27, 2020, of complications due to Covid-19. She grew up in Squirrel Hill with parents Yetta and Lou Kravitz and sister Beatrice ("Beatsy") (Feldshue). She attended Taylor Allderdice High School, where she twirled a baton as a majorette and enjoyed sorority life. At Penn State, she put her talent for wordplay toward a major in advertising. She got a master's in education from Temple University and worked as an elementary and middle school teacher for the Pittsburgh Public Schools for over 20 years. That she made an impression on her schoolchildren was undeniable: even long after she had retired, former students would approach her and express their gratitude for her teaching. She was married to late newspaperman Jack Markowitz, with whom she had five children, for 40 years. Strong-willed, energetic, a lover of good food, music, and conversation, Middy enjoyed playing bridge and Scrabble, gardening, traveling, writing poetry, and walking in Frick Park. She is survived by her five daughters, Eve Markowitz Preston of New York City, Beth Markowitz of Cordoba, Spain, Hannah Markowitz of Venice, CA, Laura Markowitz of Jericho, VT and Rachel Markowitz of San Francisco. Six grandchildren living in the U.S. and UK will always have Grammy to remember. Deep thanks to her team of dedicated caregivers. A celebration of her life will be held at a later date. Contributions in her name may be made to any animal protection or medical research charity. Arrangements entrusted to Ralph Schugar Chapel, Inc., family owned and operated. www.schugar.com

Condolences
Send Condolence
To all Middy's daughters: Your mother was a lovely woman, always caring of everyone. My mother Marilyn (Feldshue) and she were always happy to see each other and catch up at events hosting by Beatsy and Gene. The last time they saw each other was when your father died; both your parents were always kind and friendly. I wish you all well.
By Rita Verk Zolot
- January 12, 2021
---
My friendship with Middy goes way back with Middy and Patsy and more recently at Maxon Towers. And daughters Laura,Terri And diane also are friends with her her daughters. Pease accept our sympathies. We will honor her memory at the animal Rescue League. ( I remember when Middy and Patsy owned a horse! They were some pair!) From the heart...Sally Schweitzer
By Sally Schweitzer
- January 11, 2021
---
My deepest condolences to all ! My mom and Middy were the best of friends and their antics and shared adventures from age 4 onwards will live on in memories of us all! Great love and comfort! Felice (412)266-4708
By Felice Bruder Fleming
- January 03, 2021
---
I am so sorry to read of your mother's passing. I have many happy memories in your home with Eve.
By Eve Gordon Herrle
- January 02, 2021
---
My deepest sympathy to the family. She was an amazing woman.
By Sandy Golomb
- January 02, 2021
---