Carole H. Greenberg

January 5, 2021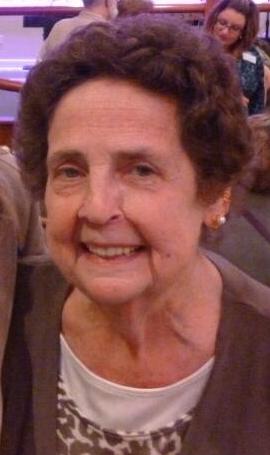 CAROLE H. GREENBERG: On Tuesday, January 5, 2021; Beloved wife for 61 years of Jack K. Greenberg; loving mother of Don E. (Sharon) Greenberg of Pittsburgh and Diana R. Greenberg of Centreville, VA; sister of Michael (late Jeanne) Helioff of Boynton Beach, FL; adoring Nanna of Anna Kristine Greenberg.  Also survived by several nieces, nephews and many cousins. Private Graveside Service, Interment and shiva. For more information please contact the family.  Contributions in Carole's memory may be made to a charity of the donor's choice.  Arrangements entrusted to Ralph Schugar Chapel, Inc., family-owned and operated for 100 years, www.schugar.com.

Condolences
Send Condolence
So sorry for you and your family. May her memory be a blessing.
By Bill Pervin & Sue Chizeck
- January 10, 2021
---
Jack & Don, My deepest condolences on Carole's passing. She was a remarkable lady who will be missed by everyone who had the honor of knowing her.
By Alan Fisher
- January 08, 2021
---
Dear Diana , I am truly sorry to hear of the loss of your mother. Please accept our Condolences and may our prayers help comfort you and Your family!!
By By Winnie Lau and Antony Hu -January 8,2021
- January 08, 2021
---
Diana, We are truly sorry to hear of the loss of your mother. We can't imagine what you are feeling right now but know that your mom will always be in your heart through fond memories. Please accept our deepest sympathy to you and your dad.
By Bob and Dawn Miller
- January 08, 2021
---
Diana, A mother is with us always, first in her lifetime, then forever in our memory. I will cherish all the times I spent with her. Your mom and dad are like family to me. My thoughts and prayers are with you and your family at this sad time.. She was a special woman and she will be with us always.
By Amy Romano
- January 07, 2021
---
Dear Diana, Ed and I want you to know that you are in our prayers and thoughts during this very difficult time. We are so so sorry to hear of your mom's passing, but are quite sure she is at peace and will be continuing to watch over us all!! Your mother loved you all so much and she was equally loved in return! Who can ask for more? Ed and I will always remember, and treasure, her kindness that made Lynn's Wedding party extra special!!! Thank you, Carole!
By Janine and Ed Kelly
- January 07, 2021
---
So sorry for your loss. Carole was such a sweet kind person. Rachelle
By Rachelle Grobstein
- January 07, 2021
---
Dear Jack and family I am so sorry about Carole's death. I have so many fond memories from being your neighbor for the past 34 years and fellow Temple Sinai member. We had fun with the Bowling League and block parties when you did your magic tricks. Carole always greeted me with a smile. May her memory be a blessing.
By Joan Stein
- January 07, 2021
---
Such fond memories of working with her on various volunteer activities at Temple Sinai. My sincere condolences
By Rhoda Dorfzaun
- January 07, 2021
---
I have known Mrs. Greenberg almost my whole life since her daughter, Diana and I started Kindergarten. I spent many a night sleeping on the floor in sleeping bags watching tv until we fell asleep. I can remember making one of our favorite meals Ham BBQ's with Isaly's chipped chopped ham and sometimes making my favorite Nanna's rasperry tarts. So yummy!! I also remember going to different restaurants and bowling. When Diana and I played in Koch Park and we heard this call "oooooa ooooa ooooa.' we knew it was time to go back to her house or time for Diana to go home and me too. Also in her last few years Mr. and Mrs. Greenberg has joined us for New Years Eve and Day to celebrate with us and also Thanksgiving and a Christmas I believe. I will always cherish the times I had with her and will remember her forever!! You were always a part of my family!! Rest In Peace now.
By Danay George
- January 07, 2021
---
Our sincere condolences. May her blessings a memory
By Debbie and Marc Haber
- January 06, 2021
---