Harriet Alpert Isaacson

February 24, 2021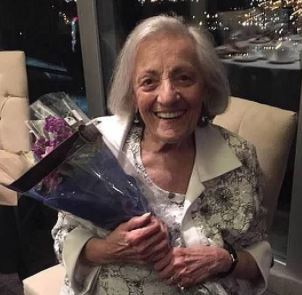 HARRIET ALPERT ISAACSON: Died on February 24, 2021 at the age of 94. She was the beloved wife for 38 years of the late Benjamin A. Isaacson; the devoted mother of Ruthellen (Jerry) Schwartz, Tom (Andrea) Isaacson and Samuel (Nancy) Isaacson; and loving grandmother of five and great-grandmother of five. She was the cherished aunt of Roberta (John) Lisi, Richard Isaacson and William Isaacson (all of Pittsburgh, PA), Robert (Daniela) Alpert, Samuel (Sue) Press and Larry Press.
Harriet was born and raised in Weirton, West Virginia along with her sister Lillian and brothers Charles and Leonard. The daughter of the late Rose and Robert Alpert, Harriet was their last surviving child.
Uniquely, Harriet and her sister married two Isaacson brothers. Harriet and Ben raised their three children in Johnstown, PA. Tradition was an important part of Harriet's life in Johnstown, bringing in each new year dancing with her husband at Kennedy Center in Washington, D.C., preparing Passover seders that included patients from the local rehabilitation clinic, and hosting joyous Sukkah parties with large gatherings of friends and family.
Harriet stood for women's equality and independence. She was never one to be idle. She received her bachelor's degree from the University of Pittsburgh. While raising her three young children, she earned her master's degree in education. She was one of the first special-needs teachers in Johnstown where she taught junior high school students for nearly two decades.
Harriet relocated to Pittsburgh after her husband passed away. There, the Alpert-Isaacson sisters became inseparable, bonded by birth, marriage into the same family, and their interest and vocation in antique jewelry. Harriet liked fashion and placed importance on presentation, from her hair and make-up to her jewelry and clothing.
Strong-willed and courageous, Harriet survived two battles with cancer with fierce determination. Along the way, she volunteered her time at local hospitals.
Harriet was an avid reader who loved classical music. Her perfect day included attending a Pittsburgh Symphony Orchestra concert at Heinz Hall.
Harriet was lovingly cared for in her final years by her caregiver, Pat Messman.
Memorial donations to Sivitz Hospice & Palliative Care would be greatly appreciated.
Private Graveside Services and Interment were held in Johnstown. Arrangements entrusted to Ralph Schugar Chapel, Inc., family owned and operated. www.schugar.com
Condolences
Send Condolence
I considered Harriet a " girlfriend " and we often went out to lunch together. I always admired how beautiful she looked when we went out. I was always hoping that some of her wardrobe skills would rub off on me.
By Ronna H Scoratow
- March 04, 2021
---
So sorry for your loss. Keeping the family in my prayers.
By Patty Harde
- March 03, 2021
---
Ruthellen Sam and Tom.. your mom was a second mom to me from when we were 3 years young ~" Me and Ruthellen " and the "boys".. dinners at your house in the kitchen and Friday night Shabbat ( I remember it as 'Shabust') in the dining room. I loved being included in your traditions and felt (always) as one of the family. Even remember a trip to Myrtle Beach, all 4 of us sitting in the back seat of your big car on that long trip... I have soo many memories, that I will hold forever in my heart. I share your loss deeply and hope we all find that place of peace, calm and understanding of her release from physical pain and suffering, to the embrace from your dad, family and friends... Love Always With You! Chris
By Chris Mayer Bragg
- March 03, 2021
---
I am so sorry to learn that Harriet has passed away. She was a wonderful kind and loving person and she will be greatly missed. I am so happy that I was able to visit her several times over the past few years, and sad that I did not see her recently. I loved remembering the past times that she and Ben spent with my parents. Great memories! You all have my very deepest sympathy.
By Becky Catelinet
- March 01, 2021
---
Dear Ruthellen, Tom and Sam, and the rest of your families, I want to extend my condolences on the loss of your mother. Harriet was one of Chas' favorite people. He had fond memories of her visits to his parents' home on Negley Ave. before she was married. I remember her as always being very warm and caring. I always loved bumping into her on Forbes Street before Covid and our being confined to our homes. I will miss her as I know you all will. My deepest sympathy. Lissa
By Elissa Hirsh
- March 01, 2021
---
Very sorry to hear of the passing of your mother. May she rest in peace.
By Harry & Laurie Lint
- March 01, 2021
---
Ruthellen, Tom, and Sam: My deepest condolences in the loss of your dear mother. She was one of the kindest, most loving people I have ever known. She and your father were the perfect couple, and an inspiration to young, married couples. Although it has been several years since I last saw her, I thought of her often. I will miss her. Thinking of all of you, with love.
By Penny Goldman
- March 01, 2021
---
May yoir MEMORIES OF YOIR MOM keep you SMILING
By Mitch Simon
- March 01, 2021
---
Please except my sincere sympathy for the loss of your dearest mother. Was a beautiful lady inside and out. Always kind and gracious.
By Victoria DiGuardi
- March 01, 2021
---