Saul Kaufman

November 8, 2021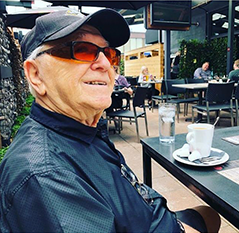 Visitation Information
November 11 2021 - 10:00 am
Friends may meet at Ralph Schugar Chapel, Inc., 5509 Centre Avenue, Shadyside, 15232

Funeral Information
November 11 2021 - 11:00 am
Beth Shalom Cemetery, 1501 Anderson Road, Pittsburgh (Shaler Township) PA 15209


SAUL KAUFMAN

THAT' (S)AUL: In the late afternoon on Monday, November 8, 2021, Saul Kaufman passed away peacefully at home surrounded by loving friends and family. He was a much beloved and adored father, grandfather, great-grandfather, uncle and great-uncle as well as a cherished friend to almost too many to name. He was 103 years old. Saul was predeceased by his parents Sam and Mary as well as his siblings Nate, Arthur, Mildred and Rose Foner. As Saul would tell the story to everyone who would listen-He was the last of five children. When he was finally born his mother exclaimed "That's (S)all!!". Saul was happily married twice. His first was Miriam Snitzer Liebling and her daughter Hope Liebling Gaum (Larry). Miriam sadly succumbed to cancer five years later. Several years after that he met and married Phyllis Solomon Green Kaufman and her two children Debbie Green Rubin (Randy) and David Green (Diane). After a beautiful and loving thirty year marriage, Phyllis also passed away. Saul proudly served his country in WWII and continued to support veterans' affairs for the rest of his life. All of his family and friends will forever remember and miss his vibrant and exuberant zest for life, playful nature and desire to put a smile on the face of every person he met. Friends may meet at Ralph Schugar Chapel, Inc., 5509 Centre Avenue, Shadyside on Thursday at 10 AM then proceed to Beth Shalom Cemetery for 11 AM Graveside Services. Contributions may be made to the Scleroderma Foundation, 300 Rosewood Drive, Suite 105, Danvers, MA  01923-1389, American Cancer Society, 320 Bilmar Drive, Pittsburgh, PA 15205 or a charity of the donor's choice. www.schugar.com 
Condolences
Send Condolence
"Uncle" Saul was the best. Witty, charming, and the nicest man. I really wish he was our Uncle? 😘
By Jim and Jayne Johnson
- November 15, 2021
---
Saul brightened every room he entered. He will be truly missed. Deepest condolences.
By Jody, Anatole & Mars Wilson
- November 12, 2021
---
Sincere condolences to Saul's family. Our thanks to him for sharing experiences, laughs and being a good example for life.
By Miles and Pat BravermanU
- November 10, 2021
---
Sending my deepest condolences on the loss of Saul. He was an amazing man. He was a dear friend of our family. I have a wonderful memory of purchasing a mattress from him for my first apartment. Saul said "don't worry I'll deliver it. He schlepped it up 3 flights of stairs. And this was at age 75. May his memory be for a blessing to all those lives he touched.
By Paula Fingeret Rulin
- November 10, 2021
---
What a great guy! He always had a smile on his face.
By Cantor Sheldon Clark
- November 10, 2021
---
To Saul's family. You are in our thoughts and prayers. Saul was our bowling friend. My husband and I enjoyed his lighthearted nature and jovial spirit. We were honored to be part of his 100th bday celebration.
By Leah Maretsky
- November 10, 2021
---