Janet F. Kreisman

April 5, 2022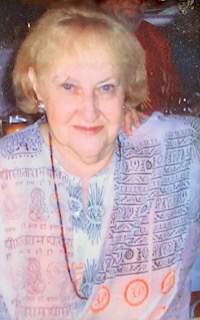 Janet F. Kreisman, Pittsburgh Businessperson and Political Activist
Janet F. Kreisman, 95, of Squirrel Hill, died at her home April 5, 2022, following a brief illness. 
The first of Kreisman's many careers was as an ad writer in her native Philadelphia, where she also wrote and produced a local television show. Sponsored by the Philadelphia School of Charm and Modeling, Your Key to Happiness offered fashion, beauty, and exercise tips, as well as interviews and performances by visiting celebrities. Guests included singer Nat King Cole, who Kreisman remembered as very charming. 
After a year and a half in Santiago, Chile for her husband's work, Kreisman and her family came to Pittsburgh in 1963, moving into a house in Squirrel Hill that she occupied until her death. In 1967, Kreisman opened a branch of the acclaimed New York boutique Paraphernalia. That first store, on Meyran Avenue in Oakland, was joined by four more, including two simultaneously at opposite ends of the Monroeville Mall. The stores featured the hip fashions of the day and provided employment to a generation of teenage girls and twenty‑something women. Her daughter, Julie, recalled that Kreisman would return home after a full workday, make dinner for her family, and go back to work. Later ventures included the independent Parafemina boutique and her final retail venture, The Glitzy Collection on Noble Street in Swissvale. After retiring from retailing in 1994, she re‑invented herself and worked part‑time in the specialty pharmacy business, where she demonstrated a gift for convincing health insurance companies to pay.
Kreisman never wavered in her zeal for liberal politics, beginning with her 1948 support of Henry Wallace's Progressive Party campaign for the presidency. Through that campaign she met her husband Arnold Kreisman, from whom she was divorced in the late 1970s. She was an active proponent of the civil rights movement and was an activist against the Vietnam War. She marched on Washington for both causes and was often seen at Pittsburgh marches for a variety of causes. In 1964 she was a founder of the still ongoing 14th Ward Independent Democratic Club, perhaps the most influential group of its type in Pennsylvania, and remained on its board for decades.
Kreisman said her greatest accomplishment was raising her daughters, Erika P. Kreisman and Julie K. Freeman, both now Pittsburgh attorneys. She also had tremendous pride in her grandchildren, Alex Goldblum and Katie Freeman, and son-in-law Irv Freeman.
Kreisman was born in Philadelphia in 1926 to Eva and Max Friedman and was raised there. In addition to her parents, she was preceded in death by brother Eddie Sachs and sisters Francis Benson and Ruth Krouse. Along with her daughters and son-in-law, she is survived by her grandchildren and nieces and nephews.
Burial will be Private. Contact Ralph Schugar Funeral Home or the family with inquiries about memorial plans. Donations may be made to ACLU of Pennsylvania (aclupa.org), the Holocaust Center of Pittsburgh (hcofpgh.org), or a charity of the donor's choice. www.schugar.com
Condolences
Send Condolence
Dear Erika: I am so sorry for the loss of your mum. I see now from where your passion was born. She had good reason to be proud of you!
By Lenny Sharon
- April 13, 2022
---
Dear Erika, My condolences to you and your family on the loss of your mother. You are in my prayers.
By Celia Shapiro
- April 11, 2022
---
Janet Kreisman was a hard-working, accomplished, kind, and caring individual who made a difference. Her presence made the world a better place. My sincere condolences to the many who loved her.
By Oren Spiegler
- April 09, 2022
---
Dearest Julie, Please accept my condolences on the death of your mom. I was fortunate to have known her. She was a positive influence and role model in my life. I remember walking into her Monroeville store and seeing the onslaught of beautiful clothes and accessories. How fortunate we were to have her as a role model. I can still hear her voice in my head. I would love to read a book that she wrote about her life and the times she lived. She lived her best life for all to see! We were so young! 💕 Love to you and your family always! Barb
By Barb Bianco
- April 08, 2022
---
I am so sorry to hear of Janet's passing. I remember her well thought I hadn't seen her for the longest time. Dan and I loved being with Janet in ADA and mutually involved on many liberal causes here in Pittsburgh. What a wonderful gal; so smart and capable and real. She and Celeste were a perfect team. We even consulted with Janet on pharmaceutical issues. Janet lived a full life and seemed to enjoy it all. We will al miss her but keep our wonderful memories of her.
By Carol Berger
- April 08, 2022
---