Gertrude Weinberg Supowitz

May 4, 2022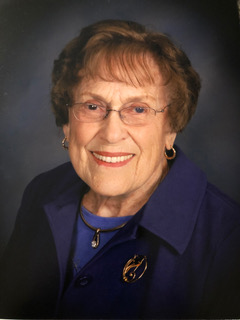 Visitation Information
May 5 2022 - 1:30 pm
Friends may meet at Ralph Schugar Chapel, Inc. 5509 Centre Avenue, Shadyside 15232

Funeral Information
May 5 2022 - 2:30 pm
Poale Zedeck Memorial Park Cemetery, 5744 Meridian Road, Richland Township, PA


GERTRUDE WEINBERG SUPOWITZ: Age 102, beloved wife, sister, mother, grandmother, great grandmother passed from this life on Wednesday, May 4, 2022. Gertrude ("Gertie") was known and beloved for the immense strength she showed her family, her community, and her Judaism. Her parents, Bertha and Sam Weinberg, were both immigrants from Austria/Hungary. They had six children. Gertie was the youngest, twenty years the junior of her oldest sister. Gertie first lived on Penn Avenue across the street from what is now the Heinz History Museum, and at the age of three moved with her family to Lawrenceville above their "Ladies & Gents" store on Butler Street.  She never lost her love of her Hungarian roots and of Lawrenceville. She was an adventurous "tom-boy" growing up. She tells the story of climbing to the top of a billboard on Butler Street to see how far she could see. After Arsenal Junior High School, she attended Schenley High School in Oakland. Growing up in the depression, she understood the importance of making her own opportunities. She excelled in writing, music, and athletics. A member of Schenley's swim & diving team, she tied for first place in diving in the Pittsburgh All-City High School swim meet. She was the only female in the junior high and high school jazz/big band where she played the piano. She served as editor of the school newspaper. At seventeen, Gertie and her family moved to Hobart Street in Squirrel Hill. Her parents were founders of Poale Zedeck Congregation. She lived just a few houses away from her future husband, Albert Supowitz. Albert joined the army and they were married at Fort Sill Oklahoma where he was first stationed. Gertie learned to take shorthand in courtroom proceedings. They later moved to Camp Pickett in Virginia and Fort Jackson in South Carolina where she continued her shorthand work before Albert was sent overseas. Following the war, Gertie and Al found strength in one another and family was always their top priority.  While Albert worked six days a week in retail, Gertie took care of the rest. Raising three children, she became handy at plumbing, wallpaper hanging, window washing, cement patching, and gardening. Throughout her adult life, Gertie gave back to the Pittsburgh Jewish Community. When Hillel Academy was first being formed, she helped Rabbi Shapiro organize the office. She was later President of the Keystone chapter of B'nai B'rith and a member of the Beth Shalom Sisterhood, where she was honored in 2013 for her years of dedication. By the time she turned fifty and the children were grown, Gertie was ready for new challenges. She returned to work at the Veterans Hospital in Oakland where she rose to become Secretary to the Director.  She loved helping veterans and she retired reluctantly at the age of seventy-seven. Within a week, she enrolled in undergraduate courses at Pitt and later took courses in Carnegie Mellon University's adult education program until the age of ninety-six. Gertie never lost her zest for life and exercise. She was still occasionally diving into her late seventies and regularly swimming her mile of laps at the Jewish Community Center into her late eighties. Until the age of ninety-one, she took six miles walks from her home in Squirrel Hill to downtown Pittsburgh. She is survived in life by her three children Diane Simon (Mark), Louis Supowitz, Martin Supowitz (Linda), grandchildren Rachel (Chris), Chad (Maricarmen), Scott (Ellie), Ally (Philip) & Michael and great grandchildren Gabby, Jonah, Lucia, and Sienna. Family and close friends may meet at Ralph Schugar Chapel, Inc., 5509 Centre Avenue, Shadyside, on Thursday at 1:30 pm and then proceed to Poale Zedeck Memorial Park for 2:30 pm Graveside Services. For funeral zoom link and shiva zoom link please contact family members. Shiva will be on Thursday evening 7:00 pm - 8:45 pm at Friendship Circle roof top area, 1922 Murray Avenue, Pittsburgh, PA 15217.  Enter from parking lot entrance in rear of the building. Face masks requested please. Contributions can be made to the Friendship Circle- Pittsburgh, or Hillel Academy of Pittsburgh. www.schugar.com. 

Condolences
Send Condolence
My sympathy on your loss. May she Rest in Peace. elaine berkowitz
By Elaine Berkowitz
- May 08, 2022
---
Dear Marty and Linda, A mother's hug lasts long after she lets go. May your mom's memory be a blessing to all who knew her. Our deepest condolences to you and your family. Fondly, Elaine & Harvey Wolfe
By Elaine and Harvey Wolfe
- May 07, 2022
---
The world is now short a truly remarkable woman. You added so much joy to the people around you. You will be missed.
By Gary & Susan Silverman
- May 06, 2022
---
Sending our sympathies to the Sopowitz family on the loss of your Mom ,Grama, and Great grama. Fondly, Dawn Niles Schwartz
By Mark and Dawn Niles Schwartz
- May 06, 2022
---
We are so sorry for your loss. We never met your mother, but she must have been an incredible woman. Our thoughts are with you
By Barbara and Joel Flesch
- May 05, 2022
---
To Lou and his family, I'm sorry to learn of your mom's passing. I had the pleasure of meeting Gertrude and she was one-of-a-kind. May you find comfort in your memories of this remarkable woman.
By Wendy Mize
- May 05, 2022
---