Sidney Bernstein

June 14, 2022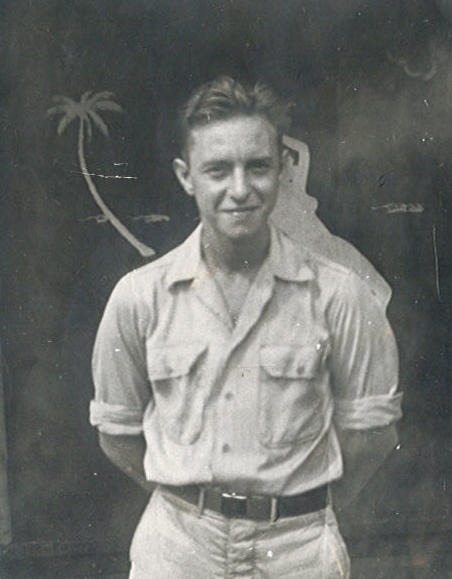 Memorial Information
June 22 2022 - 5:00 pm
University Square One, 4625 Fifth Avenue, Pittsburgh, PA 15213
A celebration of life will be held on Wednesday, June 22, 2022 from 5-7 pm in the lobby of University Square one. 
SIDNEY BERNSTEIN: On Tuesday, January 14, 2022. Beloved husband of the late Audrey Bernstein. Cherished father of Susan Ruda. Grandfather of Kenneth (An) Ruda. Great-grandfather of Jacob Ruda. Brother of the late Larry Bernstein. Uncle of Oliver (Connie) Bernstein. Sidney grew up in the Hill District on Wiley Avenue, then spent his teenage years in Squirrel Hill, where he played baseball at Allderdice High School. Sidney met his wife when she was 13. It wasn't until after he returned from the war five years later that Sidney fell in love and married Audrey. Sidney was a World War II veteran, spending five years in the Pacific. He earned three bronze stars from fighting in the Battle of New Guinea, Battle of Leyte Gulf, and Battle of Okinawa. Graveside Services and Interment Private. A Celebration of Life will be held at University Square One on Wednesday, June 22, 2022 from 5-7 PM in the lobby of the building. Contributions may be made to University Square One Ecological Rain Garden Fund, c/o Jessica, 4625 Fifth Avenue, Pittsburgh, PA 15213. Arrangements entrusted to Ralph Schugar Chapel, Inc., family owned and operated. www.schugar.com

Condolences
Send Condolence
My first memory of Sid was in 2007, coming home from work and finding him, with his lobby crew. He would shout out "There she is! The most beautiful girl in the building!! Come talk with us!" And when I did, I saw every other person greeted with similar enthusiasm! He was part of what made our bulidng feel like a community to me. He was the organizer of outings to plays, pool playing, poker parties, lunches at Ritter's, with a bevvy of friends- always looking forward to the next event. Over the years he has stopped by my place to tell stories of his life, from his childhood to his teens when he was a man about town with his uncles, to the war and all his adventures and then coming home to find Audrey, marry her and start their family. He talked about travels with her parents around the world, starting myriad furniture businesses and then headed to San Francisco to be near Susan and Kenny- where he found the perfect job- being a host at the USO in the San Fransico Airport! I heard stories many times, always with the refrain-- the life I've lived, I've known people, been places, done things other people can't imagine, if I could do it all again I wouldn't change a thing! He is already missed but I'm so happy I knew him for the time I did.
By Mary Ann Steiner
- June 20, 2022
---
I met Sid when I moved into University Square in 2004, so we have been friends for 18 years. For the nine years that I lived in the building, we chatted daily down in the lobby. We enjoyed playing pool, dining out and theater in Pittsburgh along with several other of his lady friends. And when I went on blind dates at restaurants in Pittsburgh, Sid would drive separately and sit close enough to our table to check out the guy and make sure I was okay. I moved back to Sharon, PA in 2013, so for the next nine years we chatted just about daily on the phone. When I went swimming at the local club late into the evening, Sid would walk me home over the phone, again for my safety. Whether in person or on the phone, we gave each other advice on a variety of topics. It was a pleasure having Sid as my friend. There was only one Sid and he will be greatly missed!!!
By Marcia Barr
- June 17, 2022
---
Cousin Sid was a part of my life forever. He was the family historian. I regret that his memories of the family were not recorded. Sid was a force of nature; full of life and caring of others. He will be greatly missed. Condolences to his immediate family.
By Myra Maker
- June 17, 2022
---
Sidney was our beloved cousin and we have many memories of our years in Pittsburgh close to Sid and his family Our sincerest sympathy for you at this time
By Elaine and Norman lebovits
- June 16, 2022
---