Florence Shapiro

August 8, 1926 - July 19, 2022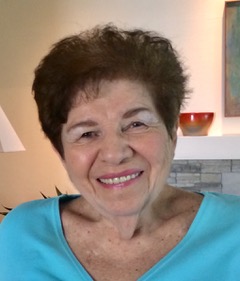 FLORENCE SHAPIRO: Born in Pittsburgh on August 8, 1926. Died peacefully on July 19, 2022 in Palm Desert, California. She was preceded in death by her parents Samuel and Celia Goldstein, sister Lillian Lebowitz and brother Irvin Goldstein. She was the loving wife of the late Albert Shapiro, mother of William Shapiro and Marc (Joe Feringa) Shapiro. She was adored by her grandchildren Keith (Beth) Shapiro and Alison Shapiro. Recently she felt blessed to attend the Bar Mitzvah of her great grandson Harris Shapiro. Also survived by nephews David and Joey Lebowitz. She will be missed by many dear friends and family who were all a very special part of her very special life. To honor her, please remember her. Private services will be held graveside. Arrangements entrusted to Ralph Schugar Chapel, Inc., family owned and operated. www.schugar.com
Condolences
Send Condolence
I just learned of Flo's passing. She was a sweet and kind lady.
By Maxine Solomon
- July 24, 2022
---
Flo and my mother, Phyllis, were good friends on Brintell St in Pittsburgh. They gave birth to me & Marc on the same year. So I guess I've known Flo my entire life. As far back as I can remember she was the most interesting woman I'd ever met! She had big hair, wore lots of jewelry and always made me laugh. She called me "Jan", which I loved!! As Marc & I grew up in different states our families would see one another about once a year but I always looked forward to those visits. I was fortunate to see Flo last year in Palm Springs after many many years (and Lou met her for the first time). As soon as I heard her voice a flood of memories came back to me and we had the loveliest time reminiscing. I will always remember her as "the coolest mom on Brintell St". Lou & I send our heartfelt condolences and much love.
By Janet Kasnett Manuta
- July 24, 2022
---
Bill has been my parents friend since I was born and I had the privilege last year of waiting on her and Bill at mad mex….. it was her 94th birthday and I gave her a brownie with ice cream and I saw her light up inside and I made her birthday…. I'm sorry that she's gone
By Reid Kronzek
- July 23, 2022
---
Flo was Beautiful in side and outside! Defiantly a one of a kind person. She had a easy way of living! Flo was Always Happy to See you. She will be dearly ❤️ missed by everyone ♥️
By SAM SHAPIRO
- July 21, 2022
---
We loved Flo. She was so friendly & personable. She always remembered us from when we were kids growing up in Stanton Heights & swimming at Alpine Swim Club. She was a joy to have at our Seders the last several years. Our deepest sympathies to Bill, Marc, Joe, Keith, Beth, Alison & Harris. You were lucky to have her for so long.
By Marcy & Harvey Kronzek
- July 21, 2022
---
Flo was such a dear friend of mine that I had the honor of being her hairstylist for too many years to count. We shared many family stories as well as friend stories. We loved her at the salon for many reasons but most of all her mind was sharp and never forgot week to week what we talked about and our gossip magazine she would read and knew current actors/actress\'s and talked about them as they were her friends. She always found the positive in people, movies, theater and restaurants. RIP my beautiful friend. I will celebrate us both August 8th
By Monica D\'Abruzzo
- July 21, 2022
---