Linda Abelson Selig

August 12, 2022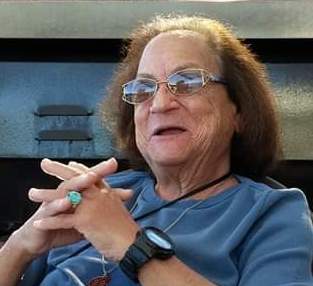 Funeral Information
August 14 2022 - 1:00 pm
New Light Cemetery, 750 Soose Road, (Shaler Township), Pittsburgh, 15209


LINDA ABELSON SELIG: On Friday, August 12, 2022. Beloved wife of Allen Selig. Loving mother of Ken (Christina Tang) Selig, Eric Selig and Barb (Sanford Riemer) Feige. Sister of Dolly Miller, the late Sheila Cartiff and late Karen Abelson. Linda was a writer, an avid photographer, and self-taught chef. She loved all animals and cared for many dogs and birds over the years, including a pair of rescued doves. One of the nicest people you will ever meet, Linda enjoyed life and fought for it for the last thirty years. Graveside Service and Interment will be held on Sunday, August 14, 2022 at 1 PM at New Light Cemetery. Donations may be made to organizations supporting people with auto-immune disorders or pulmonary hypertension. Arrangements entrusted to Ralph Schugar Chapel, Inc., family owned and operated. www.schugar.com



Condolences
Send Condolence
Linda was my close friend through four years at Peabody High. We shared a special corner of Mr. Sanfilippo's biology lab as our homeroom and as our command post to navigate the twists and turns of adolescence. Linda's positivity and sense of humor when looking at life affected all of us in that corner, making us better humans for having known her. We recently got back in touch and enjoyed several wonderful phone conversations this past year, catching up on so many lost years. I am heartbroken to find that she is gone, and send my condolences to Allen and family. The world has lost much light and sparkle with Linda's passing. Her memory is a blessing to so many.
By Retta Davidow London
- August 18, 2022
---
I have known Linda at least 40 years, a true friend always there through thick & thin. She accepted my current wife with open arms & stood for me when we got married 15 years ago. She will be missed & be in our thoughts forever. Our condolences go out to her family. With Love Bob & Nellie Harter
By Bob & Nellie Harter
- August 15, 2022
---
Sending sincerest and heartfelt condolences to Alan Ken and Eric. It was my pleasure to be your mom\'s cousin. Her kindness and thoughtfulness always shinning through. May she rest in peace and may you always remember her with a smile.
By Ilene Shapiro and Bud Shapiro
- August 14, 2022
---
I pray God's comfort on her husband and sons. Linda was a lovely person. She suffered a long time; it is sad she has passed, but at the same time, it's a blessing to know she is fully restored and with her Maker. No one set a better example on how to keep going in the midst of serious illness.
By Katie Nagel
- August 14, 2022
---
Linda has been an inspiration to us. She had spirit and determination. I think of her as a role model who remained positive enduring many challenges. Her beauty is reflected in her writings. How privileged to have a copy of her writing: LIFE LESSONS FOR MY LITTLE ONE. You will be missed. May her neshama (soul) have an Aliyah.
By Miriam and Rob (Aufseeser) Weiss
- August 14, 2022
---
Linda will be missed so very much. She was a person who brought joy to others. I have many fond memories of our short time together. I pray for comfort for the family and friends of dear precious Linda during this difficult time of loss and sorrow.
By Wanda Cummings
- August 13, 2022
---
So sorry to hear this sad news. Linda was my neighbor on Ebdy Street and took my daughter Sara's Bat Mitzvah pictures. Ken went to school with my son Stuart. My condolences to all of you.
By Doris Braun
- August 13, 2022
---