Sarah Jane Ehrman

August 24, 2022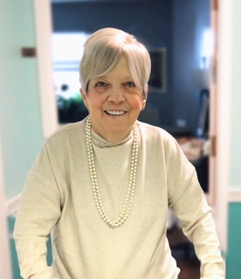 SARAH JANE EHRMAN: After a long battle with the complications of diabetes, Sarah Jane Ehrman died on August 24, 2022. Sarah was filled with delight for the people, places and actions that made her smile. She loved her family: her brother and his wife Mark Ehrman and Chee Kwong, her sister and her husband Ruth and Jake Tedaldi, her nieces Julia Ehrman and Olivia Ehrman, her nephews and their wives Max and Jennifer Tedaldi, Luke and Olivia Tedaldi, Julius Tedaldi, Max Ehrman, Dylan Tedaldi, Ben Ehrman, and her great nephews Jack Tedaldi and Will Tedaldi. She celebrated life with her boyfriend, Mark Lichtenstein. Sarah taught everyone who loved her and spent time with her that living was about relationships and talking and understanding and celebrating differences. She didn't appreciate being rushed. She wanted to enjoy the moment -whether swimming in the Atlantic Ocean, eating lobster and clams, playing bingo or getting to know new people who genuinely were interested in discovering and building a relationship, Sarah was present to share the experience. She will be missed by all who loved her. Services and Interment Private. A memorial service will be held at The Weinberg Terrace at a time and date to be disclosed. Donations can be made to The American Diabetes Association. Arrangements entrusted to Ralph Schugar Chapel, Inc., family owned and operated. 
www.schugar.com
Condolences
Send Condolence
RIP Sarah מנוחה פונדק שלום. Sarah was one of the bright spots of my Father's stay at Weinberg Terrace 2012-2017. She went out of her way to befriend both of us of which we both thoroughly enjoyed. Sarah (RIP) will always be remembered as a heartfelt outgoing, friendly and warm human being no matter what challenges she endured throughout the day. She knew and expressed gratitude for the love of her brother and sister and adored her visits to you in the Northeast. Sarah regularly expressed how proud she was of her ballet dancing nephew! I am confident her memory will be a blessing for all who loved her.
By Beth Paransky
- September 03, 2022
---
Mark and Ruth, I read in the Chronicle that Sarah had died. I know it's been a very long time since we've had any contact, but I often think of you and your family. I'm very sorry to be only just now writing and that it's to express condolences for Sarah's passing.
By Susan Golomb
- September 01, 2022
---
Mark, My deepest sympathy to you and your family. Having lost my brother recently, I know only too well how hard it is to lose a sibling..especially a younger sib. Words of comfort and support only scratch the surface of this loss. Hope you find peace in good memories and knowing that Sarah is no longer suffering. Paula
By Paula Mallinger Eger
- August 29, 2022
---
Ruthie, I came across the sad news of Sarah's passing quite by acccident. After so many decades I still remember the joy she spread with her big smile and her sense of fun. Sarah was always "game" for whatever we got into in those years. May her memory be a blessing. So sorry for your loss.
By rose kay
- August 27, 2022
---