Isabel Soltz Shiflet

January 8, 2023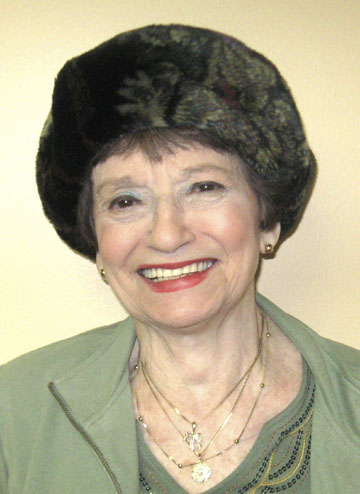 Visitation Information
January 11 2023 - 12:00 pm
Ralph Schugar Chapel, Inc., 5509 Centre Avenue, (Shadyside) Pittsburgh 15232
Funeral Information
January 11 2023 - 1:00 pm
Ralph Schugar Chapel, Inc., 5509 Centre Avenue, (Shadyside) Pittsburgh 15232
Watch the service live by clicking on this link: https://www.shiva.com/guw9jikl
ISABEL SOLTZ SHIFLET: Passed away peacefully on January 8, 2023, at the age of 101. Born to Reuben and Eva Soltz, Isabel grew up in the Squirrel Hill neighborhood of Pittsburgh and was a proud graduate of Taylor Allderdice High School, class of 1939.
Isabel traveled the world as an army wife, living for several years in Germany, Italy, and army bases throughout the United States. After returning to Pittsburgh, Isabel passed the civil service exam and worked for 35 years as an Executive Secretary for the Department of Housing and Urban Development. With her vivacious energy and outgoing personality, she was truly the queen of her office, and was known for organizing popular social events, particularly her festive "Bagel Bashes."
Upon her retirement in 1986 she entered a second career as a volunteer. She devoted countless hours to the development office of the JCC at Forbes and Murray and as an assistant in arts and crafts at what was then the Jewish Home for the Aged on Brown's Hill Road. Isabel could often be seen walking up Murray Avenue wearing one of her signature hats. She greeted everyone she met with a smile and knew the names of all the people who worked in the places she frequented. She was a fervent Steelers fan and a lifelong Democrat.
At the age of 75, Isabel received her first computer and used it to make hundreds of custom greeting cards for friends and family. She embraced email and videochat as new ways to keep in touch. She never forgot a birthday and enjoyed creating her yearly photo postcard. The family historian, she documented every event with her camera. She was an avid knitter and crafter, always focused on giving to others. Her enthusiasm for living spanned generational differences, and she had many friends of all ages. She remained close with her high school girlfriends and met them every month for lunch well into their eighties.
Isabel is survived by her beloved brother, Morton Soltz; her loving children Marsha Shiflet (Bob Santoro) and Zelda Lee Mason (Peter Hamlin); her adoring grandchildren Rachel Mason (Sharón Friedner) and Michelle Rubenstein (Isaac), and three great-grandchildren. The oldest of her generation, she is also survived by many cousins and their families.
Services at Ralph Schugar Chapel, Inc., 5509 Centre Avenue, Shadyside on Wednesday, January 11, 2023 at 1 PM. Visitation one hour prior to services (12 Noon - 1 PM). Interment Shaare Torah Cemetery. To view the service live via zoom, click this link: https://www.shiva.com/guw9jikl
The family will receive visitors for Shiva at the Hyatt House, 5335 Baum Boulevard, Pittsburgh, on Wednesday, January 11, from 4 PM to 7 PM with a brief service at 6:30 PM. Additional Shiva calling hours will be held in Framingham, MA.
In lieu of flowers, donations can be made to the Isabel Soltz Shiflet Senior Adult Endowment Fund at jccpgh.org or to Good Shepherd Community Care Hospice of Massachusetts, 160 Wells Avenue, Newton, MA 02459. www.schugar.com
Condolences
Send Condolence
Our heartfelt condolences and prayers going out to you and your family at this time of sorrow. Please accept our sincere sympathy over the loss of Mom. May her soul rest in peace.
By Stephen and Anna Maria
- January 11, 2023
---
No words can express how deeply sorry I am for your loss .
By Joseph Norris
- January 11, 2023
---
To Marsha and Bob, Our sincerest condolences on the passing of your beloved mother. Aléha hashalóm.
By Harvey and Bev Sokoloff
- January 10, 2023
---
I am so very sorry to hear about your Mom's passing! Isabel and my Mom were very close friends/cousins for a long time and stayed in touch physically and virtually as much as possible. Isabel was so amazing, such a positive attitude, lovely smile, wonderful outfits with matching hats! As my Mom sadly passed in 2020, I know they are together once again and having a great time with lots of laughter! The entire Kline family sends our best to you Marsha & Lee and your families! All our Love always
By Phyllis (Kline) Seadler & Larry Seadler and the Kline family
- January 10, 2023
---
Marsha, Bob and Shiflet/Stoltz family. Our deepest and sincere condolences on your loss. Rrst easy Isabel. God Bless.❤🙏
By Richie & Sandy
- January 10, 2023
---
Such a person! She will be sorely missed.
By Julia Berkley
- January 10, 2023
---
Isabel was an inspiration! From her days at the JCC to her work as both a volunteer and a resident of the Jewish Association on Aging, Isabel was a stylish, sophisticated and kind hearted woman. People gravitated toward her because of her charisma and her charm. Isabel was beloved by the staff of Weinberg Terrace and Weinberg Village -- she brightened up all of our days! Indeed, we are better for having had the honor of being in her company. May her soul rest in peace!
By sharyn rubin
- January 10, 2023
---
I am saddened to learn of the loss of Isabel. I met Isabel soon after I arrived in Pittsburgh and knew her as an intelligent and enthusiastic volunteer. We both loved Doris Heit (of blessed memory). I used to have a quilt of the Kotel (Western Wall) that Isabel and others made with Doris. We would put it up every year for the High Holidays. Isabel was a joy to be with. I will miss her greatly.
By Rabbi Eli Seidman
- January 09, 2023
---