Larry M. Grumet

May 3, 1945 - April 8, 2023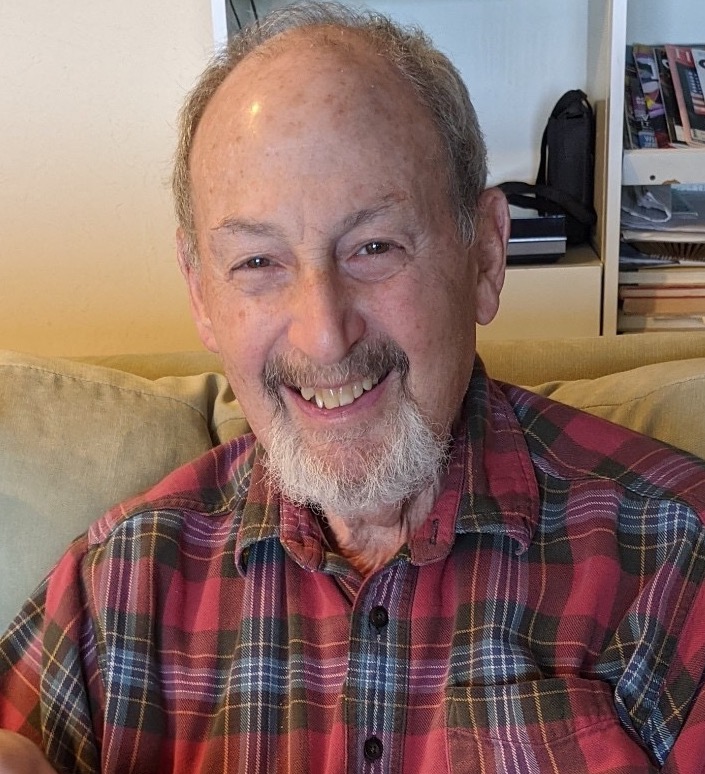 Funeral Information
April 11 2023 - 1:00 pm
Ralph Schugar Chapel, Inc., 5509 Centre Avenue (Shadyside), Pittsburgh, PA 15232


LARRY M. GRUMET (May 3, 1945-April 8, 2023):

We are heartbroken to announce the passing of Larry, cherished husband of Janice, beloved father of Sarah Grumet (Ian White). Beamingly proud Papa to Bellamy Grumet-White (a pisher cut straight from the Grumet cloth). Larry is survived by many dear nieces, nephews, cousins, grand-niblings, and many deeply fond (and indulgent) friends and neighbors. Larry was preceded in death by his parents, Clara (Kweller) & Oscar Grumet, his older sister, Susan Roth, and a handful of Aunts & Uncles.

Larry was born in 1945 in Pittsburgh, PA, and lived the bulk of his life in the Squirrel Hill neighborhood; he was known variously as "The Mayor of Darlington Road" and "That guy yelling at speeders to 'Slow down!'." Larry attended Allderdice High School and Edinboro University. In 1966, as a college junior, Larry dropped out and enlisted in the U.S. Army with the intention of "saving Squirrel Hill from Communism." Larry served as an M.P. for 3 years, spending part of his service in France & Germany before being sent to Vietnam, where his active combat experience included the Tet Offensive. He graduated from The University of Pittsburgh in 1983, after taking 21 years off to find himself (and marry Janice). Larry's colorful professional career included brief stints as both a Narcotics Agent & a Go-Go Dancer before he ultimately became a Banking Specialist in Loans/Collections. He transitioned to the role of Retired/Housewife in 1987. 

Larry was an ardent cat-lover, vocal veteran against wars, proponent of sensible gun laws, and dogged advocate for justice. He loved dancing with his wife, badgering his daughter, and getting his way. Larry was a dutiful son, doting nephew, goofy uncle, loved cousin, reliable friend & neighbor (always there to lend a hand, or escalate on your behalf), and a professional neb-around-town. He was a loyal, loving, and perpetually irreverent husband, father, and soul. A true "G.D.I.," his mark on his family and community will ripple outwards for generations.

Services at Ralph Schugar Chapel, Inc., 5509 Centre Avenue, Shadyside on Tuesday, April 4, 2023 at 1 PM. No Visitation Prior to Services. Interment Homewood Cemetery. 

Donations in Larry's honor can be sent to Animal Friends Pittsburgh (www.thinkingoutsidethecage.org), or to Planned Parenthood (www.plannedparenthood.org). www.schugar.com 
Condolences
Send Condolence
I'm sorry to see this news. I'd run into Larry often on Forbes near the Bagel Factory and can honestly say he always had a smile and friendly word to offer. He was a warm, welcoming presence who brought sunshine to every chance encounter.
By David Shifren
- April 17, 2023
---
Heartbreaking news... so sorry for the Grumet family and for our Imperial House family. Larry was a fixture in the Imperial House office and was always so willing to help, offer advice to the Imperial House staff and always, always made us smile. We will truly miss him.
By Norman and Diane Stankewicz
- April 12, 2023
---
Larry and I were both born in May 1945, I knew him from the beginning, growing up in Squirrel Hill. He was always a real mensch. and always treated everyone with kindness and respect . Terrific guy. He will be missed My best to all of his Family Marc Silverman
By Marc Silverman
- April 11, 2023
---
We were saddened to hear of Larry's passing. We had enjoyed meeting up with Larry and Jan on some of their visits to FL. May he rest in peace with his sister & parents. Growing up in Squirrel Hill, Herman & Larry were together on numerous family occasions. Larry will be missed. Deep condolences to Jan & family!
By Herman & Carolyn
- April 11, 2023
---
May his memory be for a blessing! Larry was our go to when we needed advice and we will miss him much!
By Susan Hill (cousin)
- April 11, 2023
---
We are very saddened by Larry's death. He was a unique character in many good ways. We enjoyed having a friendship with him, and extend heartfelt condolences to Jan and the rest of your family. Bunni and Howie
By Howie Grossinger
- April 11, 2023
---
I am so very sorry for your loss he was a very sweet man ..
By Kimberlee Scabora
- April 11, 2023
---
I am so sorry for your loss. Not even sure what to say but my thoughts and prayers are with you
By Cindy Hood
- April 10, 2023
---
I want to extend my condolences to Larry's family. I am shocked & saddened to hear of his passing. He was a really great guy; a very nice (& entertaining), person. I met him through my boyfriend Irv Younger & we had many enjoyable times sitting around kibbitzing (& talking seriously), at the Coffee Tree café & Bagel Factory. I will certainly miss him. Squirrel Hill will never be the same.
By Judith Kaye
- April 10, 2023
---
Our hearts are broken. We will miss Larry's sense of humor and his kind heart!
By Dave and Debbie
- April 10, 2023
---
We were so sorry to learn of your loss. We will miss his smile. May you be comforted among those who mourn for Zion and Jerusalem.
By Rabbi Eli Seidman
- April 10, 2023
---
So saddened to receive the news about Larry. He was a wonderful neighbor for Cecil. She sends her love. May his memory be a blessing.
By NANCY COHEN
- April 10, 2023
---
Larry's friendship will be missed. I am so sorry and wish Jan and family the best in your days of grief.
By Carol Lampe
- April 10, 2023
---