Beatrice Dobkin

April 22, 2023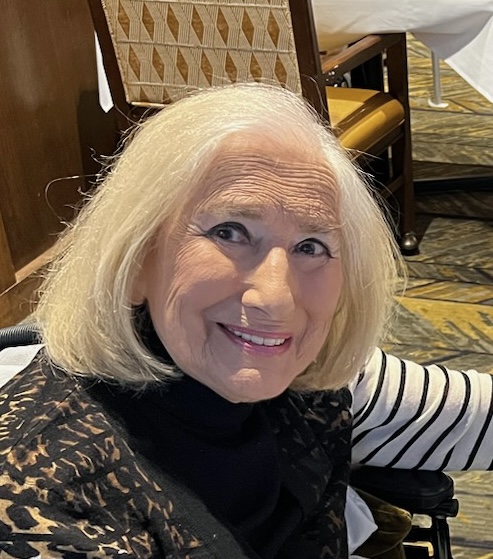 Visitation Information
April 30 2023 - 10:30 am
Ralph Schugar Chapel, Inc., 5509 Centre Avenue, (Shadyside) Pittsburgh 15232

Funeral Information
April 30 2023 - 11:00 am
Ralph Schugar Chapel, Inc., 5509 Centre Avenue, (Shadyside) Pittsburgh 15232


BEATRICE DOBKIN/ BASKIN/ SCHNEIROV: Of Pittsburgh, PA passed away on Saturday, April 22, 2023 of natural causes. Beloved wife of the late David Dobkin. Loving mother of Amy Manela (Stewart Manela), Fran Baskin (Corinne Petrich) and Stewart Baskin (Lori Baskin). Sister of the late Laurence Schneirov (Shirley Schneirov). Grandmother of Jessica Litwack, Jeremy Manela, Scott Manela, Aubrey Baskin and Alex Baskin. Great-grandmother of Lev, Shama, Yovel, Amani, Ruby, Silas and Thelton. Beatrice (or Bea as she was known) was 95, and a blessing to all that knew her. Bea lived a life of grace, class, and dignity, and will be remembered for her unwavering character and uncommon wisdom. Born Beatrice Schneirov to parents Nellie and Israel in Pittsburgh, Bea attended the University of Pittsburgh where she met and then married Bernie Baskin, with whom she had and raised her three children, twins Amy and Fran, and Stew. Later in life, Bea met and married David Dobkin of Pittsburgh, who became the love of her life and with whom she will be laid to rest, and then moved to Florida where they spent over 25 wonderful years together as active adults well into their 90s. Bea loved her children, grandchildren, and great grandchildren, and as matriarch of the family proudly cherished the mantle of Nanny with which she was ordained from the moment of her first grandchild's birth, and became Nanny for the rest of her life. Nanny's greatest joy was to spend time with her grandchildren and great grandchildren, and they adored their Nanny. Beatrice's was a life well lived, filled with love, joy, and accomplishment. Her legacy will continue to inspire all of us who shared in the gifts of her love, courage, and indomitable spirit. Mom/Nanny/Bea, you will be with us always. We love you. As Corinne coined years ago in a great photo calendar she made for all of us "Thank you for being Bea". Services at Ralph Schugar Chapel, Inc., 5509 Centre Avenue, Shadyside on Sunday, April 30, 2023 at 11 AM. Visitation one half hour prior to services, (10:30 AM - 11 AM) Interment Beth Shalom Cemetery. Contributions may be made to Pearlstone Retreat Center, 5425 Mt. Gilead Road, Reisterstown, MD 21136 or a Pet Animal Rescue of your choice. www.schugar.com

Condolences
Send Condolence
Dear Amy, Fran & Stewart, Kindly accept my sincere condolences on your Mom's passing. I just learned the news & was instantly filled with memories of her & you during the years we grew up on the 1200 &1300 blocks of Denniston Ave in the50's-70's. I remember your mother Bea as tall, strikingly attractive, and an independant woman. I often saw her tending to her garden. In addition to you three I remember she was the proud "mother" of her prized German Sheperds with whom I regularly saw her walking. I pray her memories will always be for a blessing.
By Rochelle Robinson Sufrin
- May 08, 2023
---
My sincere condolences to the entire family.
By Terri Leitner
- April 25, 2023
---
We are so sorry for your loss!! May the memories you have of her and with her comfort you. I know she was a very special lady!! Sending love!
By Gary and Mari Smith
- April 24, 2023
---