Irving B. Gruber

June 6, 2013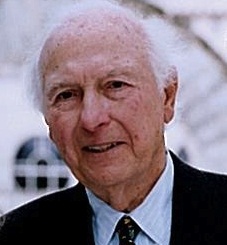 Visitation Information
June 7 2013 - 12:30 pm
Rodef Shalom Temple, 4905 Fifth Avenue (at Morewood)

Funeral Information
June 7 2013 - 1:00 pm
Rodef Shalom Temple, 4905 Fifth Avenue (at Morewood)


GRUBER, IRVING B: Died peacefully following complications from a fall just two months after his 98th birthday celebration with his whole family: sons Jon (Linda) Gruber and Terry (Claudia) Gruber; his daughter Jamie deRoy; his grandchildren Lindsay (Chris) Dunham, Wyatt (Jane) Gruber, Timothy Gruber and Rose Gruber; his great-grandchildren Wyatt, Miles, and Lila Dunham, Griffin and Nina Gruber. Irv is also survived by his three siblings: Stanley Gruber, Adeline Tabor and Saundra Grobstein. His wife, the artist Aaronel DeRoy Gruber, predeceased him. Irv was a pure Pittsburgher, growing up on Oakland Square, attending Schenley High School where he was captain of the swim team, valedictorian and class president. Irv went to Carnegie Tech on a scholarship; majored in industrial management and was president of his fraternity. He was a big fan of all Pittsburgh sports and his most memorable sporting events were the Immaculate Reception game with his two sons and the seventh game of the 1960 World Series with his wife. Following graduation from Carnegie Tech he worked for National Tube, running their huge bomb making facility during World War II. In the late 1940's Irv and a partner bought American Forge and Manufacturing Company in the Northside on the site that would later become Three Rivers Stadium. The company played an important role in the building of the Alaskan pipeline and invented a load binder for heavy trucks and ships. During the takeover boom of the 1960's a conglomerate bought American Forge and Irv stayed on to run it. He was later asked to sell the company which he did, and then resold it a few years later. Irv, using his new knowledge of mergers and acquisitions, began a new career where he did over 20 mergers, including the sale of Harlan Electric to MYR Group. Irv was a fun-loving and generous man without a mean bone in his body. His great interests were Aaronel, his wife of 71 years, his family, golf, poker and his "true stories" about his life which were usually accompanied by a J&B scotch with a splash of soda. The poker game, called Investment Club 50, was started by nine great friends in 1950 and a portion of each pot was invested by dad's dear friend Alexander (Bub) Speyer, and the returns were legendary. Irv outlived the whole poker game so he initiated new "pigeons" into the game and the game is still going strong 63 years later. Irv loved to tell "true stories" about his life and how he considered himself the luckiest man to have lived, beginning with meeting the love of his life in Aaronel, and continuing with his children's success, his grandchildren, his golf and his poker. He ultimately put these stories together in his wonderful memoir, Rear View Mirror, which he wrote in 2004. Irv will be greatly missed by his family and friends. Services at Rodef Shalom Temple, 4905 Fifth Avenue (at Morewood) on Friday at 1 PM. Visitation at Temple one hour prior to services (12 Noon - 1 PM). Interment West View Cemetery of Rodef Shalom Congregation. In lieu of flowers, contributions may be made to Carnegie Museums Development Office, 4400 Forbes Avenue, Pittsburgh, PA 15213 or Westmoreland Museum of American Art, 221 North Main Street, Greensburg, PA 15601 or Rodef Shalom Temple, 4905 Fifth Avenue, Pittsburgh, PA 15213. Arrangements by Ralph Schugar Chapel, Inc.
Condolences
Send Condolence
Irv exemplified all that was great in 20 th America. The timely exhibition of Aaronel\'s career at the Westmoreland Museum gave visitors a glimpse into the exceptional talents of a dynamic duo. Our sincere sympathy to Irv and Aaronel\'s family.
By Marsha and Alan Bramowitz
- June 07, 2013
---