Lee Howard Kleinerman

August 27, 2013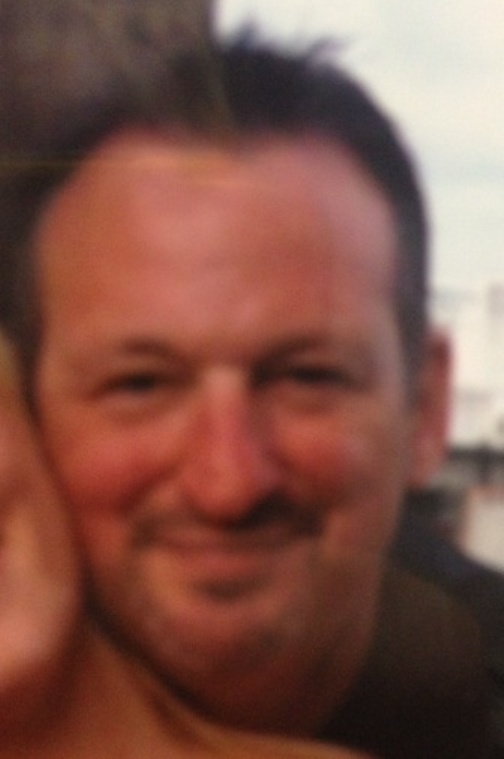 Visitation Information
September 1 2013 - 12:00 pm
Everyone May Meet At Ralph Schugar Chapel, Inc., 5509 Centre Avenue, Pittsburgh (Shadyside), PA 15232

Funeral Information
September 1 2013 - 1:00 pm
Beth Shalom Cemetery, 1501 Anderson Road, Pittsburgh, (Shaler Twp.), PA 15209


KLEINERMAN, LEE HOWARD: Unexpectedly passed away on Tuesday, August 27, 2013; Beloved recent husband of Angela Zeglin Kleinerman formerly of Latrobe, PA. Beloved father of Jessica Lee Kleinerman, Nancy Rae Kleinerman and Gianna Marie Zeglin. Loving son of Ellen and Joseph Kleinerman of Henderson, NV. Brother of the late Darren Kleinerman. Friends may meet at Ralph Schugar Chapel, Inc., 5509 Centre Avenue, Shadyside, on Sunday at 12 Noon and then proceed to Beth Shalom Cemetery for 1 PM Graveside Services. www.schugar.com.

Condolences
Send Condolence
Angi, I\'m deeply sorry and heartbroken over Lee\'s passing. He was such a sweet, thoughtful guy who loved you dearly. I\'ll always treasure the memories when you two came up to my birthday party last year. My dogs adored Lee and both Frankie and Rocky loved sitting on his lap. I\'m here for you if you need anything! Love you Melissa
By Melissa
- September 15, 2013
---
Our deepest condolences to the family and friends of Lee.
By Danny Lee & colleagues from Alcoa Australia
- September 01, 2013
---
Dear Ellen and Joe, It has been many years since we have seen each other and I am sad to have this be the reason why I am in touch now. I always loved Lee like a brother and was happy to get back in touch with him in recent years. Lee always had a good heart and meant well. He was a smart guy with a lot of passion for the things he believed in. I hope you find comfort in knowing that his friends love him, miss him, and will always hold him close in our thoughts and prayers.
By George Balliet
- September 01, 2013
---
Ellen and Joe, I'm so shocked and saddened to hear of this news! It's been years since I've seen you Ellen (the parking lot of Whole Foods), but you've always been in my thoughts with love. There are no words at this time other than to tell you to stay strong and lean on each other. Love, Rob
By Rob Zgonc
- September 01, 2013
---
our prayers to you and your family angie. You hold a special place in our hearts. Dr Akhrass staff an family
By sandy sage
- September 01, 2013
---
So sorry for your loss. My deepest condolences.
By Nanette Bechard
- September 01, 2013
---
My condolences to the Kleinerman family. Lee was a great guy and a good soul.
By Stuart Hoffman
- August 31, 2013
---
To the family, you have my deepest sympathy for your loss. I had the privelege to work with Lee at NetApp and and he was my customer at PNC Bank. We spent many nights working together laughing our heads off because we were so tired. I also got to meet his precious daughters Jessica and Nancy when they came to work with him and I also met his wonderful family. He worked tirelessly and loved life. He loved his family most and always talked about his daughters. He was so happy he met Angela and was excited to be married. He embraced whatever came his way. I will deeply miss Lee and all his craziness.
By Penelope Carr
- August 30, 2013
---
My sincerest condolences to your family. I knew Lee through work over the years and no one had a bigger heart than him.
By Greg Musi
- August 30, 2013
---
With deepest sympathy to the Kleinerman Family.
By David Amatangelo, Ditio Inc.
- August 30, 2013
---
Such sad news, my condolences to the family and friends of Lee. The world is a lesser place without him.
By Brad Klingensmith
- August 30, 2013
---
I am very sorry for you loss. I am a witness to his hilarious personality, magnanimous spirit, and nobility in endeavor. He will be sorely missed. To quote one of his old jokes: "There is no finerman....than Lee Kleinerman!"
By Ronan L. Jones
- August 30, 2013
---
Dear Ellen, Joe, I am so sorry -- i just heard that Lee passed away. I am so sad and devastated for you and Lee's daughters and wife. I know we have not been in touch for years, but I wanted to reach out to you and add another voice to the many, many people who are missing and remembering Lee. I was in touch with Lee on Facebook until late last year, and had been thinking of him recently and wondering how he was doing. I am so deeply saddened to hear that he's gone and I am really hurting for you. I do not know what words can possibly comfort you in the face of a loss like this, but I am sending you and Joe my love, my thoughts and my prayers. May Lee rest in peace. with my sincerest condolences, Elise Mellinger Wu
By Elise Mellinger Wu
- August 29, 2013
---
My heart goes out to Lee's family.
By Bob Lee
- August 29, 2013
---
We will keep everyone in our thoughts and prayers as you grieve during this most difficult time.
By Ken and Judy House
- August 29, 2013
---
Hi, Our thoughts are with you. Receive our most sincere condolences. Fabian Fortier Canada
By Fabian Fortier
- August 29, 2013
---
To the Best Man at our wedding, we will miss you tremendously. I can still remember the sound of Lee's voice when he'd call me - he didn't say hello, he said... YO! So sorry for Angela, Jessie, Nancy, and Gianna.
By Tony & Sharon Lalli
- August 29, 2013
---