Miriam Chizeck

February 17, 2015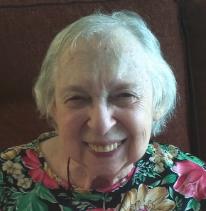 Visitation Information
February 22 2015 - 3:00 pm
Ralph Schugar Chapel, Inc., 5509 Centre Avenue, Pittsburgh, PA 15232

Funeral Information
February 22 2015 - 4:00 pm
Ralph Schugar Chapel, Inc., 5509 Centre Avenue, Pittsburgh, PA 15232


CHIZECK, MIRIAM: On Tuesday, February 17, 2015; Beloved wife of the late Ben Chizeck. Beloved mother of Howard Chizeck of Mercer Island, WA, Annette Chizeck of Hellerup Denmark and Karen Chizeck of Philadelphia. Daughter of the late Samuel and Edith Fuss. Sister of Gilda Pervin and the late Hyla Bassel. Grandmother of Rebecca of Seattle, WA, Erik of Chicago, IL and Alex and Simon of Denmark. Great-grandmother of August. Aunt of Lisa Drummond, Rachel Pervin, Frances Chizeck, Iris Chizeck, Janet Messer, Susan Chizeck, Gerri Chizeck, Robert Bassel, Larry Bassel, Edward Pervin, James Pervin, Paul Chizeck and Brian Chizeck. Services at Ralph Schugar Chapel, Inc., 5509 Centre Avenue, Shadyside on Sunday, February 22, 2015 at 4 PM. Visitation one hour prior to services (3 - 4 PM). Interment Beth Abraham Cemetery. Contributions may be made to Temple Emanuel of South Hills, 1250 Bower Hill Road, Pittsburgh , PA 15243. www.schugar.com.
Condolences
Send Condolence
We will miss you Cousin Miriam. You are all in our thoughts and prayers.
By Stephanie, Bill, Will & Juliette Harle
- February 22, 2015
---
Our thoughts and prayers sent with love and remembrance of our Cousin Miriam.
By Barbara, Richard, Emily and Rachel
- February 20, 2015
---
Miriam and her smiling face and joyful laugh will stay with us as we remember her and miss her. So sorry we could not attend the funeral. Hope you can feel us with you at this sad time. Miriam was a very special lady! Love and hugs to all
By Hykie and Sandy
- February 20, 2015
---
Cousin Miriam, you were always compassionate and caring, curious to learn about the world around you, and eager to participate in life. The last time I saw you, you were on your way to a sing-a-long! I smiled and said to myself, "That's Miriam. Always doing. Looking to the future. Not dwelling on the past." Such a positive personality you were. Talking with you was always a joy. I will miss hearing your voice. We all will miss you more than words can express.
By Valerie Scho Carey
- February 20, 2015
---
Our cousin Miriam will surely be missed. Our thoughts and prayers are with you.
By Philip, Jared, and Jonah Caplan
- February 20, 2015
---