Jerome M. Meyers

May 28, 2015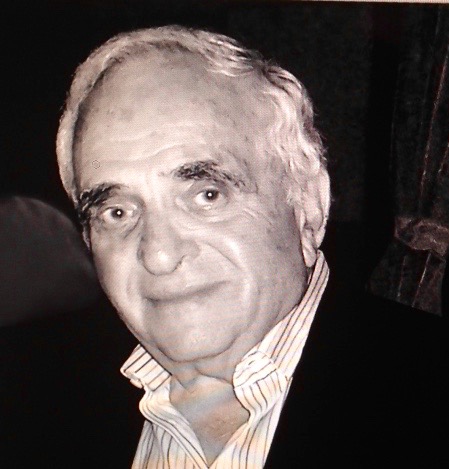 Visitation Information
May 31 2015 - 2:00 pm
Ralph Schugar Chapel, Inc., 5509 Centre Avenue, Shadyside

Funeral Information
May 31 2015 - 3:00 pm
Ralph Schugar Chapel, Inc., 5509 Centre Avenue, Shadyside


MEYERS, JEROME M.: On Thursday, May 28, 2015; Beloved husband and best friend of Janet Meyers. Beloved father of Linda (Donald) MacLeod, Sally (Michael Powell) Meyers and Richard (Al Kennedy) Meyers. Step-father of Debra Julio) Richards, Eric McCutcheon (Candy Cameron) and Scott (Theresa) McCutcheon. Brother of Sylvia Iwler and Harvey Potashman. Grandfather of Cameron and Rebecca MacLeod, Helena Powell and Noah Meyers. Step-grandfather of  Hannah Richards, Zen and Sophia McCutcheon. Much loved by his caregivers, Lorenzo, Kim and Lydia, and staff at the Charles Morris Nursing Home. Mr. Meyers was born in Canonsburg, PA in 1928 to Rose and Meyer Potashman. In 1946, he began serving in the United States Army. In 1952, he married Adell Farber, his first wife and mother of his three children. In 1953, he earned his Juris Doctorate from the University of Pittsburgh School of Law. He practiced business law for several decades. In 1960, he was a Pennsylvania District 30 candidate for the U.S. House of Representatives. As a longtime resident of the Borough of Monroeville, Jerome served twice as its Solicitor, working diligently to bring major business to the community, including Westinghouse Nuclear Center, East Suburban Health Center, and Monroeville Mall. Mr. Meyers was a proud, founding member of Monroeville's Temple David. His second marriage was with his beloved, best friend, Janet McCutcheon in 2000. With his family he loved boating on the Chesapeake and in Jupiter, Florida, where he held a second residence. He and his brother Harvey Potashman co-founded and operated the Food Gallery supermarkets in the greater Pittsburgh area. He loved to entertain at his Squirrel Hill home with Janet and family. Toward the end of his life, he was stricken with Parkinson's Disease. He was loved greatly and deeply by so many. He held a special light within him that could cheer a room in an instant. Jerome will be remembered for his integrity, generosity and his love of family. Services at Ralph Schugar Chapel, Inc., 5509 Centre Avenue, Shadyside on Sunday at 3 PM. Visitation one hour prior to services, (2-3 PM). Interment Homewood Cemetery. In lieu of flowers, contributions may be made to the Michael J. Fox Foundation for Parkinson's Research, Donation Processing, P.O. Box 5014, Hagerstown, MD 21741-5014, (www.michaeljfox.org) www.schugar.com

Condolences
Send Condolence
There isn't much of a "Youngstown contingent" anymore, but all emanating from this smaller steel town loved and admired Manny. The obituary is touching and touched on several of his fine qualities. The impact he had on family and community is his lasting legacy and we wish to be counted among those who held him in such high regard. May his memory be a blessing on the lives of those he has left behind - and may we merit being counted among them. We share this loss.
By Jerry, Vincetta & Adrianna Haber
- May 31, 2015
---
We're thinking of you and keeping the entire Meyers family in our thoughts. Sending our love.
By Chris Camarillo & John Siritaranukul
- May 31, 2015
---
My dear friend and mothers neighbor at Charles Morris you will be greatly missed. Rest in peace.
By JoAnn Strichko and Eleanor Limperos
- May 30, 2015
---
Sending our condolences to the Meyers Family and know that you\'re in our thoughts & prayers. With sympathy, Alex & David
By Alex Morales & David Connors
- May 29, 2015
---
I was married to Jerome M. Meyers for twenty-five years and am the mother of his three children. Although we had irreconcilable difference and divorced, I continued to admire and respect his many fine qualities. I pray he will Rest in Peace. My heartfelt condolences to his family and friends who were always so good to me, and to his wife, Janet, who gave him so much love and support during all their years together.
By Adele Farber Meyers
- May 28, 2015
---